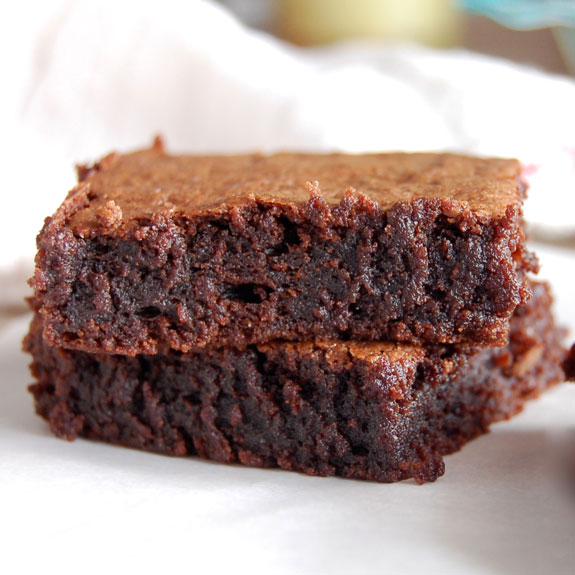 Also try my Potato Brownies in a Mug, Zucchini Brownie Bread, Avocado Brownies and Brownie Ice Cream for more paleo brownie goodness.
Why This Paleo Brownie Recipe Is So Good
I have experimented with several Paleo brownie recipes, but this one tops the list by far. They come out of the oven very moist and chewy. That means that if you are one of those people who likes the outside edge of brownies, you might want to bake them for a few extra minutes.
I mean, there are even specially designed pans dedicated to making edge-only brownies, so I know you are out there. Also, my boyfriend is one of those people. One way I knew that we were a good match was that he liked to eat the outer edge from the brownie pan and I preferred the fudgy center. Perfect.
These paleo brownies are better than any mix from a box, and they avoid a large heaping of sugar and flour. There actually isn't any flour in the recipe at all, even gluten-free flour. I don't know if I would be able to tell the difference between this brownie recipe and its non-Paleo counterpart. They're THAT good.
Fudgy Paleo Brownie Ingredients
1 cup almond butter
⅓ cup grade-A maple syrup
1 egg
2 tbsp ghee
1 tsp vanilla
⅓ cup cocoa powder
½ tsp pure baking soda
The almond butter used in this recipe helps to make your brownies chewy and dense, but almond butter also has some great benefits! Almond butter is a great source of healthy, monounsaturated fats, and also provides your body with a nice dose of magnesium.
Almonds can also help to lower cholesterol and are part of a heart-healthy diet! Who knew brownies could be a part of a heart-healthy diet?
Healthy Paleo Brownie Substitutes
Egg Substitutes for Brownies: If you avoid eggs due to a food sensitivity or intolerance, not problem. Simply replace eggs with flaxseed! All you need is 2.5 teaspoons ground flax per egg. Before adding to the recipe, be sure to whisk the ground flax seed in a little bit of water until it becomes gelatinous.
Almond Butter Substitutes for Brownies: Although the almond butter helps to make the brownies dense and chewy, if you avoid almond products in general, you can easily replace these ingredients. You can add in sunflower seed butter as a healthy and delicious replacement. The amount you'll need for these substitution does not change.
Ghee Substitutes for Brownies: Melted coconut oil is a great replacement if you prefer not to use ghee. Although the brownies turn out extra fudgy when using ghee, chances are you'll almost always have coconut oil on hand as part of your Paleo-friendly pantry.
Maple Syrup Substitutes for Brownies: Be sure to read through the FAQ section of the recipe for examples of other products you can swap for maple syrup!
Tools You'll Need
9 inch baking pan
Large mixing bowl
Whisk
Just like the simple ingredient list, the items you'll need to prepare the recipe are quite minimal as well.
Paleo Brownie FAQ (Everything You Need to Know)
How long do these brownies keep? If you've managed to save some brownies for another day considering how delicious they are, store them in the refrigerator overnight. If after an additional 1-2 days have past and you still have leftovers, it is probably best to freeze for added freshness.
Are Paleo brownies healthy? Compared to other non-Paleo brownie alternatives, these are definitely healthier; however, it is still best to fill your day with nutrient dense foods such as lean protein, non-starchy vegetables, and healthy fats! In moderation however, this paleo treat can definitely fit into a healthy diet.
Where can I find Paleo-friendly Almond Butter? Almond butter is readily available in most markets, but to ensure the particular butter you are purchasing is Paleo-friendly, review the list of ingredients. Here is an example of a paleo-friendly almond butter that is highly recommended: https://www.amazon.com/Barney-Butter-Almond-Smooth-Ounce/dp/B00U9VTY48
Is there a way to make paleo brownies low sugar? Absolutely, you can make these lower sugar brownies. Just swap the maple syrup for erythritol, stevia, or monk fruit. There are also blends of these three sweeteners that can be purchased without buying each sugar alternative separately. Blends may be preferable since some individuals feel that stevia has a bitter taste while others have digestive issues with too much erythritol. You may find that you need a smaller amount of sugar alternatives to add sweetness, so just add to your liking!
Paleo-friendly Brownie Variations
Sweet Potato Brownies
No-Bake Brownies
Lavender Maca Brownies
2. Triple Chocolate Mint Paleo Brownies
Regular brownies are elevated into something spectacular with the addition of mint and more chocolate. A dark chocolate bar, cocoa powder, and chocolate chips are all used in this triple chocolate dessert. For those people who are not fans of mint, it is easily swapped out with vanilla or espresso grinds to make these a versatile treat.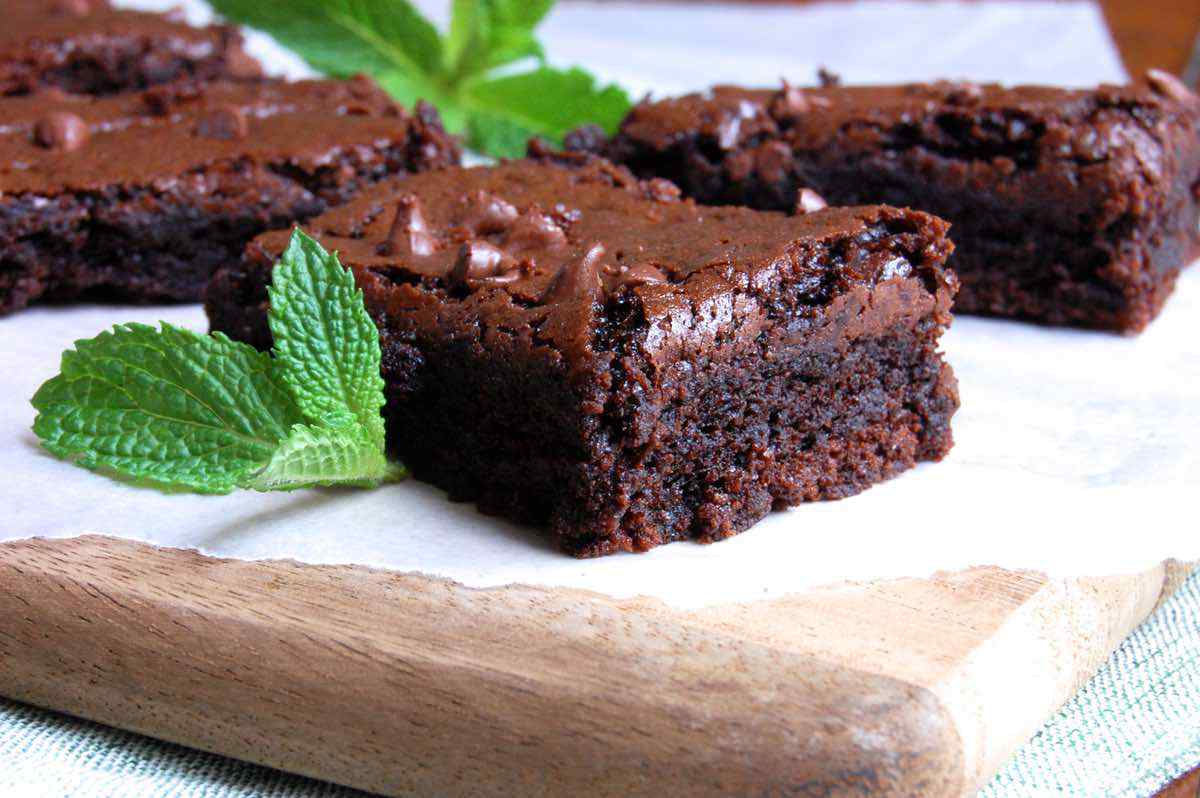 Ingredients:
1 cup almond butter
1/3 cup maple syrup
1 egg
2 tbsp coconut oil, melted
1/2 tsp peppermint extract
1/2 tsp vanilla extract
1/4 cup cocoa powder
1/2 tsp baking soda
3 oz. dark chocolate
1/3 cup mini chocolate chips
Instructions:
1. Preheat the oven to 325 degrees F. Melt the dark chocolate in the microwave and transfer to a large bowl. Add the almond butter, syrup, egg, coconut oil, peppermint extract, and vanilla and whisk to combine. Stir in the cocoa powder and baking soda.
2. Pour the batter into an 8×8-inch baking pan. Sprinkle the top with chocolate chips. Bake for 20-23 minutes, until the brownie is done, but still soft in the middle.
3. Easy Paleo Walnut Brownies
Rich, fudgy brownies can still be enjoyed on the Paleo diet thanks to this recipe. Almond butter acts as the base for the brownies, and they are sweetened with all-natural maple syrup. Walnuts are mixed into the batter for a satisfying crunch as well. They are ready to enjoy in less than half an hour.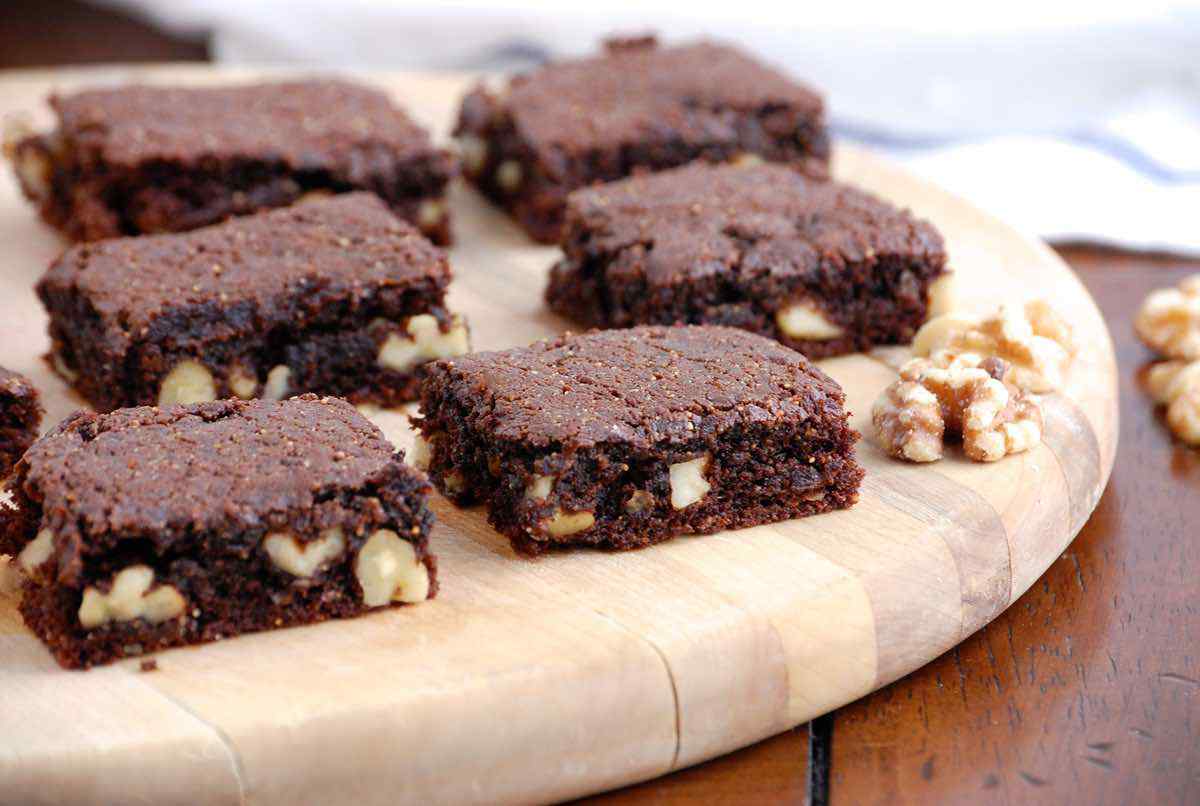 Ingredients:
1 cup almond butter
1/3 cup maple syrup
1 egg
2 tbsp coconut oil, melted
1 tsp vanilla extract
1/3 cup unsweetened cocoa powder
1/2 tsp baking soda
1 cup walnuts, chopped
Instructions:
1. Preheat the oven to 325 degrees F. Prepare an 8×8-inch baking pan with coconut oil spray. In a large bowl, whisk together the almond butter, syrup, egg, coconut oil, and vanilla. Stir in the cocoa powder and baking soda. Fold in the walnuts.
2. Transfer the batter into the baking pan. Bake for 20-23 minutes, until the brownie is set, but still soft in the middle. Serve warm.