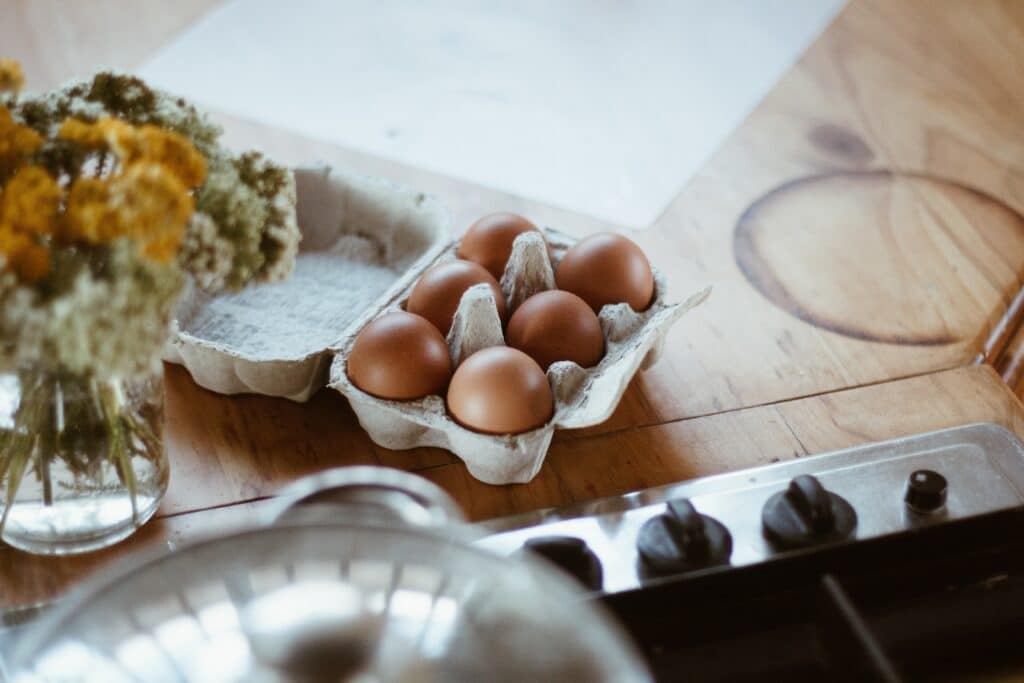 How do you like to eat your eggs? Eggs are a nutritious, readily available food option with which many of us are familiar. Maybe you like your eggs scrambled, over-easy, poached or hard-boiled. There's no shortage of ways to cook this versatile food. One tool that can make your egg experience even better is an egg cooker, but there are a ton of different options on the market. If you're looking to invest in one to make your life easier, here are some of the best egg cookers this year.
Why should you eat eggs?
When it comes to bang-for-your-buck foods, the humble egg has to be up there with the best of them. Packed with protein, six grams per one egg, and satiating fats, five grams per egg, it's an easily accessible food that can be utilized in a ton of different ways. Not only does the egg have the macronutrients covered, but this food is also loaded with the micronutrients necessary for a well-rounded diet. According to Healthline, a single egg contains Vitamin A (6% of the RDA), Folate (5%), Vitamin B5 (7%), Vitamin B12 (9%), Vitamin B2 (12%), Phosphorus (9%), and Selenium (22%). Needless to say, the egg is a small, but mighty, food that can easily be incorporated into your diet.
Different ways to eat eggs
The beauty of the simple egg is that it can be prepared in a multitude of ways depending on your tastes and preferences. For breakfast, you may like your eggs scrambled with some avocado on top, with steak and greens or in a frittata.
Poached eggs can be tasty on top of an arugula salad. Hard boiled eggs are great as a snack with some salt and pepper sprinkled on or chopped up with some mayonnaise to make egg salad. Put that egg salad on top of some fluffy white bread and you have a perfect lunch of picnic accompaniment. 
No matter how you like to eat them or if you are following a specific meal plan or diet, this protein-packed, versatile food is an incredibly easy way to add nutrition to your daily diet.
What is an egg cooker? 
Now, I want to talk to all those people out there who love a good hard-boiled egg. If that's you, stick around because we're going to talk all about a tool that could up your egg game as well as save you precious time in the kitchen.
That's right, let's talk all about egg cookers. 
An egg cooker is a small, relatively inexpensive kitchen gadget that can potentially save you a lot of time if you eat eggs frequently. While an egg cooker might be most well-known for its ability to perfectly cook boiled eggs, egg cookers can also help you whip up deviled eggs, poached eggs or even scrambled eggs. This contraption does not take up very much counter space at all (perfect for people with small kitchens, like myself) and can cook many eggs at once. 
Even better, egg cookers require zero percent of your attention once you have it going. That means your eggs can cook (perfectly, I might add) and you can continue to tend to other things – whether it be cooking other parts of your meal, tidying up around the kitchen or taking the dog for a quick walk. If you're a college student living in a dorm room or you don't have access to a full kitchen, an egg cooker can be a major game changer for you. 
All you need for perfectly-cooked eggs in your egg cooker is water and eggs. The egg cooker will heat the water which creates steam. This steam will cook the eggs to perfection.
The best egg cookers on the market 
If you search "egg cookers" on Amazon, you'll easily get over 5,000 results. No one has time to go through 5,000 egg cookers of every size, ability and capacity to find the one that will work best for them and their situation. Never fear, we'll weed through the endless array of egg cookers for you and give you our top options. 
Best Budget Egg Cooker
The most well-reviewed egg cooker on Amazon is the DASH rapid egg cooker. You'll really get the most bang for your buck with this option since it rings in at approximately $20 (in July of 2022). This egg cooker can steam six eggs at one time. It also comes in a variety of colors so you can perfectly match it to your kitchen aesthetic. 
The DASH rapid egg cooker can hard, medium or soft-boil eggs to perfection. Not only that, but it can also poach or scramble eggs and even cook one-person omelets. It comes with all of the necessary equipment to make the eggs that you prefer and the different cooking trays are easy to clean. 
This egg cooker has a clear lid so you can keep an eye on things as the machine is doing its work, but you don't *have* to pay attention as it has an auto shut-off feature that kicks in once the eggs have reached their desired doneness. It is worth noting that many people who have reviewed this product have found that the alert noise that the machine makes when the eggs are done is loud and quite jarring. This is something to be aware of, especially if you plan to use this tool in the early morning hours or late at night. 
Overall, for $20, this budge egg cooker is a really great option – especially for college students or people who have smaller kitchens. It's compact, lightweight and performs without a hitch (just a loud beep).
Best Stainless Steel Egg Cooker
If you're hunting for an egg cooker with an elevated look that works like a charm, look no further than the Cuisinart Egg Cooker. Cuisinart is a trusted appliance brand that has been around since the early 1970's. The stainless steel look is a classic kitchen aesthetic and this particular egg cooker will fit right in with other stainless steel appliances. 
This Cuisinart tool has a 600-watt heater and can cook up to 10 eggs at a time. The eggs cook in a two-tier system which allows for even cooking all around. Although, with the stainless steel design, you won't be able to see the eggs while the cook like you can with other clear-lid options. 
The egg cooker can cook your eggs at a soft, medium or hard-boiled level. The tool also comes with removable trays which can be used to cook omelet or poached eggs. The omelet tray can cook a three-egg omelet and the poached egg tray can cook four. The egg cooker also comes with a measuring cup so you know exactly how much water to add to the machine. 
This egg cooker shuts off once all of the water has evaporated. There is an audible alert that pings once the eggs are done. 
As of July 2022, this egg cooker rings in right at $40. If you're looking for an affordable stainless steel egg cooker that is reliable and can cook up to 10 eggs at once, we recommend this one. 
Best Investment Egg Cooker
Now, the Instant Pot can cook eggs, but it's not *only* an egg cooker. This tool can assist you on a variety of culinary adventures. This is why we're crowning it as the best "investment" because, while this isn't exactly cheap, you can truly get a lot of value out of it. 
The Instant Pot really blew up in popularity around 2016. A kitchen gadget with a cult following, you can find a variety of Instant Pot recipes and cookbooks all over the internet or in bookstores. So, while the Instant Pot can easily cook your eggs, it can also cook whole meals, make yogurt or even bake some of your favorite desserts. 
The Instant Pot can cook small, medium, and hard-boiled eggs. The Instant Pot comes with a steam rack that is placed into the bottom of the pot so the eggs can cook evenly. Not only can the Instant Pot steam eggs, but you can also make egg bites, omelets, scrambled eggs…basically any type of egg your heart desires. 
As of July 2022, you can find an Instant Pot for just under $100. 
Best Microwave Egg Cooker
Sometimes, simpler is better. If you don't want another appliance sitting on your countertop, but you still want a simple way to cook eggs easily, you should consider a microwave egg cooker. Our top pick is the Nordic Ware Microwave Egg Boiler. 
This egg boiler has the capacity for four eggs. All you have to do is add water, add the eggs, shut the lid and place the boiler in the microwave. You will have to experiment with the cooking time depending on the wattage of your microwave and how done you want your eggs to be. 
Ringing in at around $16, this is a super affordable option that would be perfect for people who want to cook just a few eggs at a time.
Download Your FREE Paleo Starter Kit Today!
3-Day Paleo Diet Meal Plan
Comprehensive Paleo Diet Shopping List
5 of Our Favorite Paleo Diet Recipes