Expo West is the biggest natural food and product show in the world! This year over 67,000 people attended and 3,000 people exhibited. Expo West of course only exists because of the people behind it; the organizers, the attendees and the exhibitors. Who you are about to see are some of the most influential, passionate, noteworthy and amazing people in the health industry. Some are new to the industry and some are long-time pioneers. 
These are my people of Expo West in order of who I first saw on day one through to day four! 
Day 1
1. The Vitacost / Kroger team Jessica Anderson and Ron Barhai and team Vitacost – Save on your favorite brands with Vitacost they sell vitamins, supplements and organic grocery products.
2. Cindy Kasendorf founder of Remedy Organics – Superfood shakes and immune-boosting wellness shots.
3. Ben Moore and Forrest Hunt from Hello Ugly – Upcycled fruits. 
4. Michelle and Nikki founders of Elavi – Cashew butters and protein bars.
5. Gracia Walker founder Broc Shots – Ready-to-shoot wellness shot that is made with 100% pure broccoli sprout powder and filtered water.
6. Lauri Ohara founder of Olita – Natural sunscreen made with organic ingredients.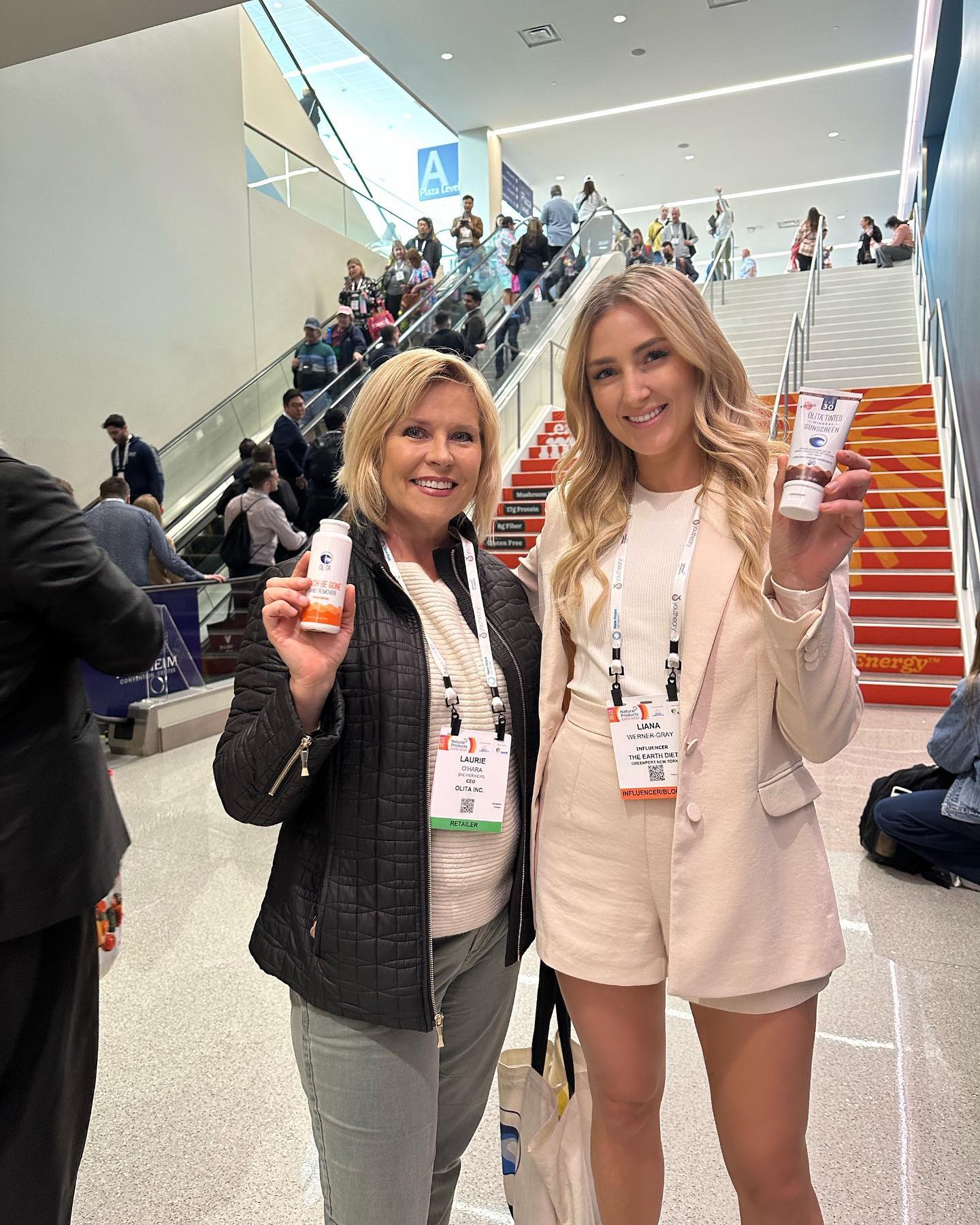 7. Max Golberg founder of Living Maxwell – One of the most widely read organic food blogs in the U.S. and writes about organic products, news, trends, and legislation.
8. Gina Coccari senior national sales manager at Dr Bronners. 
9. Mike Bronner President of Dr Bronners – Dr. Bronners is one of the OG health brands. They are known for their amazing soap that has 18 uses in 1.
10. Regenerative farming at the Ecology Centre – A truly incredible experience having dinner here just 50 feet away from where our food was grown and I have to say the freshest salad I've ever experienced. 
11. Jordan Rubin – The founder of Garden of Life, Beyond Organic and Ancient Nutrition where he serves as CEO.
Day 2 
12. Andrea Donsky Founder of Naturally Savvy Podcast. 
13. Chef Shawn from Redmond Real Salt  – Unrefined sea salt mined from an ancient seabed in Utah. 
14. Namawell Ladies – Amazing Juicer's making it easier for everyone to juice!
15. Paul, Wyatt and Sydney from SunButter – Sunflower Butter that is incredibly tasty and nutritionally superior to peanut butter and almond butter.
16. Mark Sisson founder of Primal Kitchen – Sauces and dressings that use real, high-quality ingredients and no seed oils!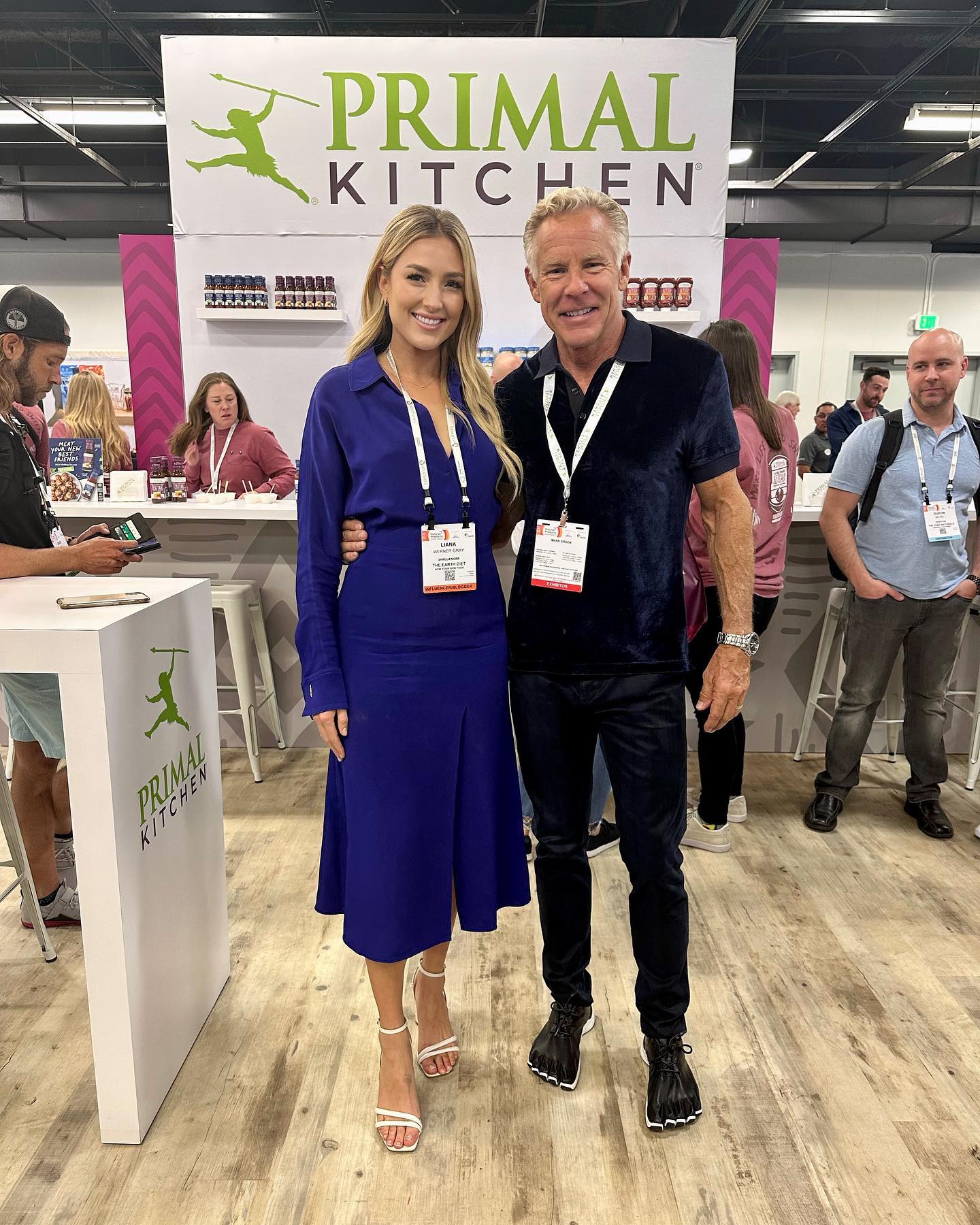 17. Madie Vogue founder of Aura Bora – Herbal sparkling water.
18. My book signing at Food Earth Booth – organic Indian shelf-stable food.
19. Madhavi, Puja, Iqbal, Brian and Chef David the team from Food Earth – Ready-made plant-based meals, perfect for Indian food lovers! 
20. Josh and Steph Tarnofsky – Soul Aligned Body Connecting women & their bodies back to the earth.
21. Fries Tarnofsky one of the youngest attendees at Expo West 2023!  
22. Ryan Seaman co-founder of Brain Cakes organic, plant-based, grain-free, and egg-free pancake and waffle mixes.
23. NBA player John Salley at my book signing.
24. Tyler Schneider From Cleveland kitchen world-class culinary fermented foods. 
25. Lesham Ben Hamo founder of Gotze – Vegetable Peelers.
26. Explore Cuisine team Alex Pegon, Brooke Papapietro, Christine Grieco, Carol Voloshin, Melissa Feldman – Explore Cuisine has incredible pasta products that are high in plant-based protein, gluten-free, and grain-free! 
27. Mark Goldfarb founder of Marks Kitchen – Delicious vegan and non Vegan Pesto made with the finest ingredients available.
28. Eric Schnell Founder | Chief Executive Officer of Beyond Brands –  A full-service agency that partners to formalize your idea and build a sustainable, scalable, and successful business.
29. Oded Brenner and Aviv Schwietzer Founders of Blue Stripes – Chocolate made without emulsifiers, no dairy and sweetened with coconut sugar. 
Dylan and Ben Stone are pictured in second photo.
30. David Bronner is the Cosmic engagement officer at Dr Bronners – Amazing organic soaps and Chocolates! Elizabeth Whitlow Executive Director at Regenerative Organic Alliance.
31. Dr Bronners. 
32. Shane Hoffer – Imlak'esh Organics – A sustainable, intentional company that specializes in the import and distribution of superfoods ethically sourced from small-scale organic farmers around the world.
 33. Tucker Harrison co-founder of Imlak'esh.
34. Phillip Matthew, Tucker Garrison founders of Imlak'esh Organics team.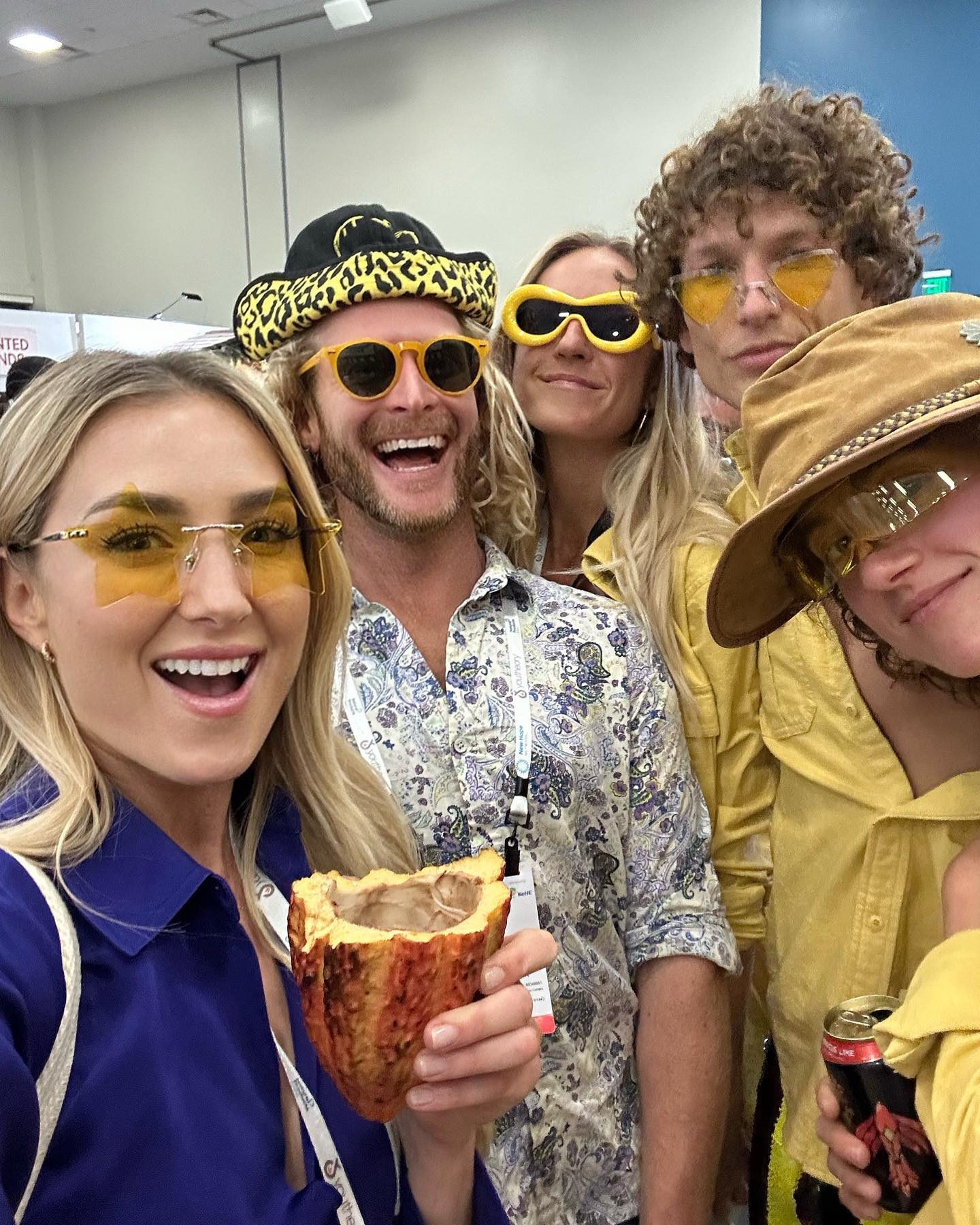 35. Sarah Paul Founder of 5 Carrots  – They work with brands that are organic & plant-based, are socially and environmentally conscious and have a meaningful story to tell. 
36. John Roulac the Founder and CEO of Nutiva – The world's leading organic superfoods brand of hemp, coconut, chia and red palm products.
Day 3
37. Lisa Shanower Vice President at SunButter.
38. David Northeast Territory Sales Manager at Bobs Red Mill – Dedicated to providing the country's best Gluten Free products. 
39. Team Pri – Manuka honey is 100% sourced from New Zealand and Australia!  Aside from jars of honey, they sell other products including chocolate and skincare made with honey.
40. Bocon – Bocon is a frozen ready meals manufacturing company they have delicious high-in-protein gnocchi to gluten free mini gratins and sweet vegan muffins.
41. Hunter Stutz at my book signing.  
42. The Kroger / Vitacost team Terri Smith and Ilene.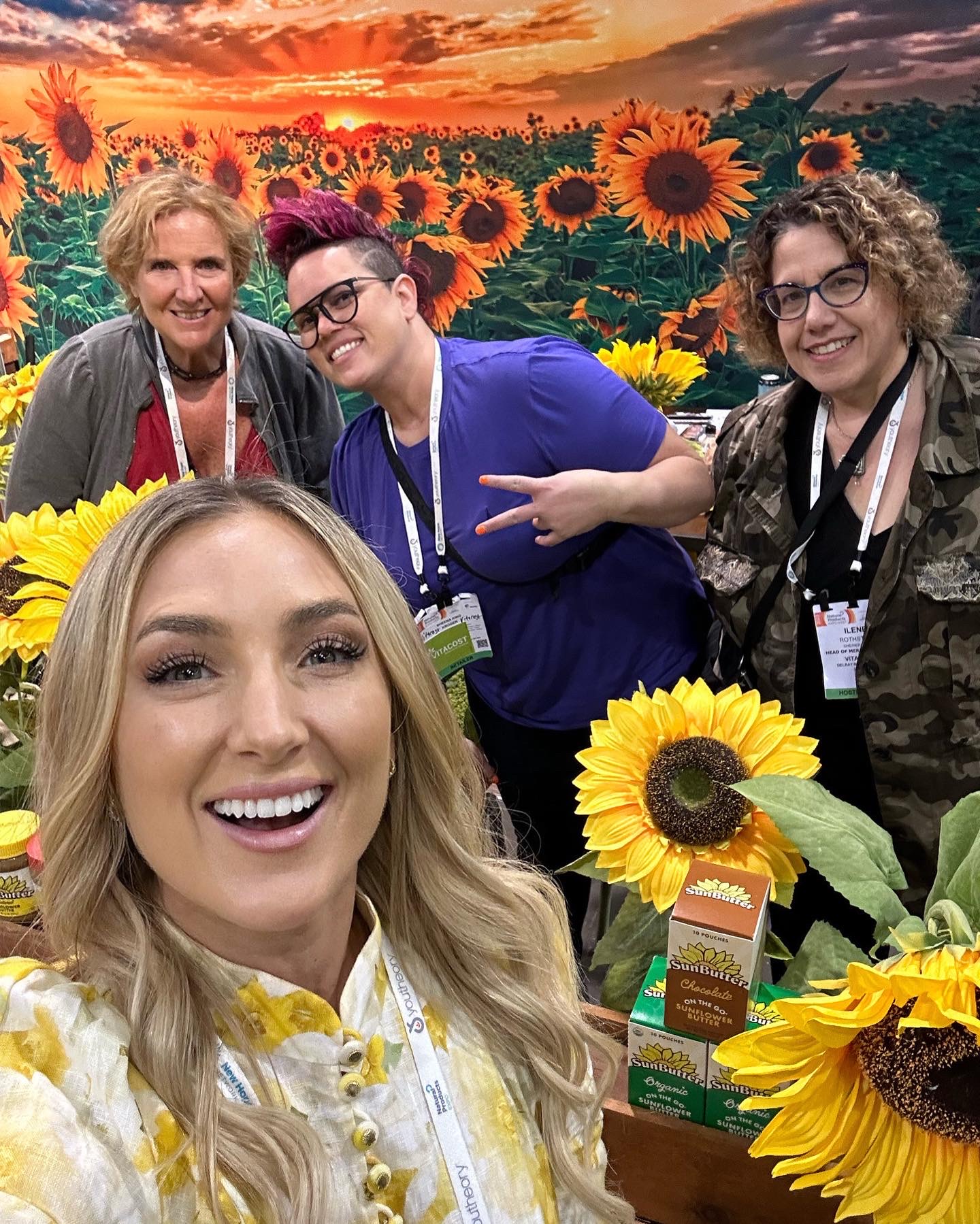 43. Chef Bae – As seen on Food Network and America's Test Kitchen, Brooke "Chef Bae" Baevsky, is an LA-based celebrity private chef. 
 44. Joe Turturici and Stefano Cataldo founders of Oggi – Authentic Italian gluten-free Cauliflower crusts.
45. Jeffrey Smith – He is the author of two books on genetically engineered foods, Seeds of Deception: Exposing Industry and Government Lies about the Safety of the Genetically Engineered Foods You're Eating.
46. GG publicist and co-founder of Aloisia beauty – Award-winning, clean cruelty-free, performance based skincare.
47. Brian Rubenstein Founder/CEO of Brand Expansion Group Inc Helping better for you and Eco friendly brands.
48. Sylvia, Kelly and Michael part of the SunButter food stylist team! 
Day 4 
49. Kaya, Sativa and Maritza founders of Dirt don't hurt – All natural oral care + beauty and body care activated charcoal detox products.
50. Kyle Berner founder of Feelgoodz – Flip flops that are made from Rubber Trees.
51. Doug Kantner Founder of Never Better Foods – Plant-based creamy, melty delicious vegan cheese.
52. Michelle Ornstein president of Enessa Skincare – Organic skin care line.
53. Jim Magner senior sales executive of Colavita – authentic specialty products, including olive oils, durum wheat semolina pasta, a full selection of balsamic and wine vinegars, traditional and organic pasta sauces, and more.
54. Chris Fade founder of Fade Fit and his wife Brianna – Protein snacks and Vitamins.
55. DJ LMFAO.
56.  Marci Zaroff – Founder/CEO ECOfashion Corp | ECOlifestyle Pioneer & Author | Co-Founder BeyondBrands & Good Catch.
57. Rusty Anderson from Redmond.
58. Jordyn and Rick – Redmond team. 
59. Alison Cox VP of Sales & Marketing at Edward & Sons – Family-owned health food company that sells organic, vegan and Gluten free products. 
60.  Matt Manning VP of sales from Lakanto – Monk Fruit sweetened delicious, sugar-free products. 
61. Gabriela Masias founder and CEO of Crave Brutal– Plant-protein puff snacks made from lupin ean, it comes in three flavors, protein-packed, delicious and light.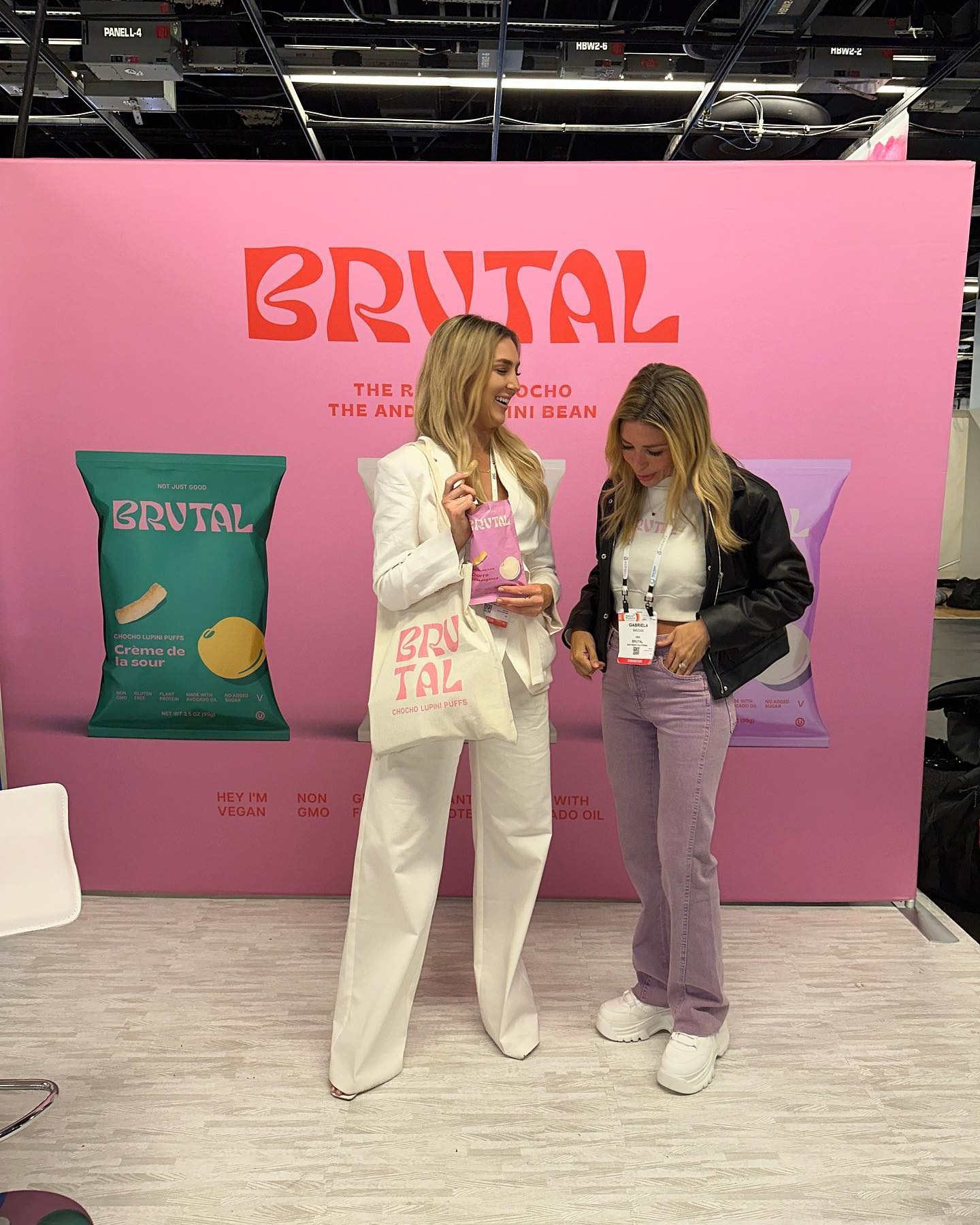 62. Yumy Bear – Natural candy! It is the healthier, plant-based candy that offers guilt-free indulgence for the whole family with only 3 grams of sugar per bag!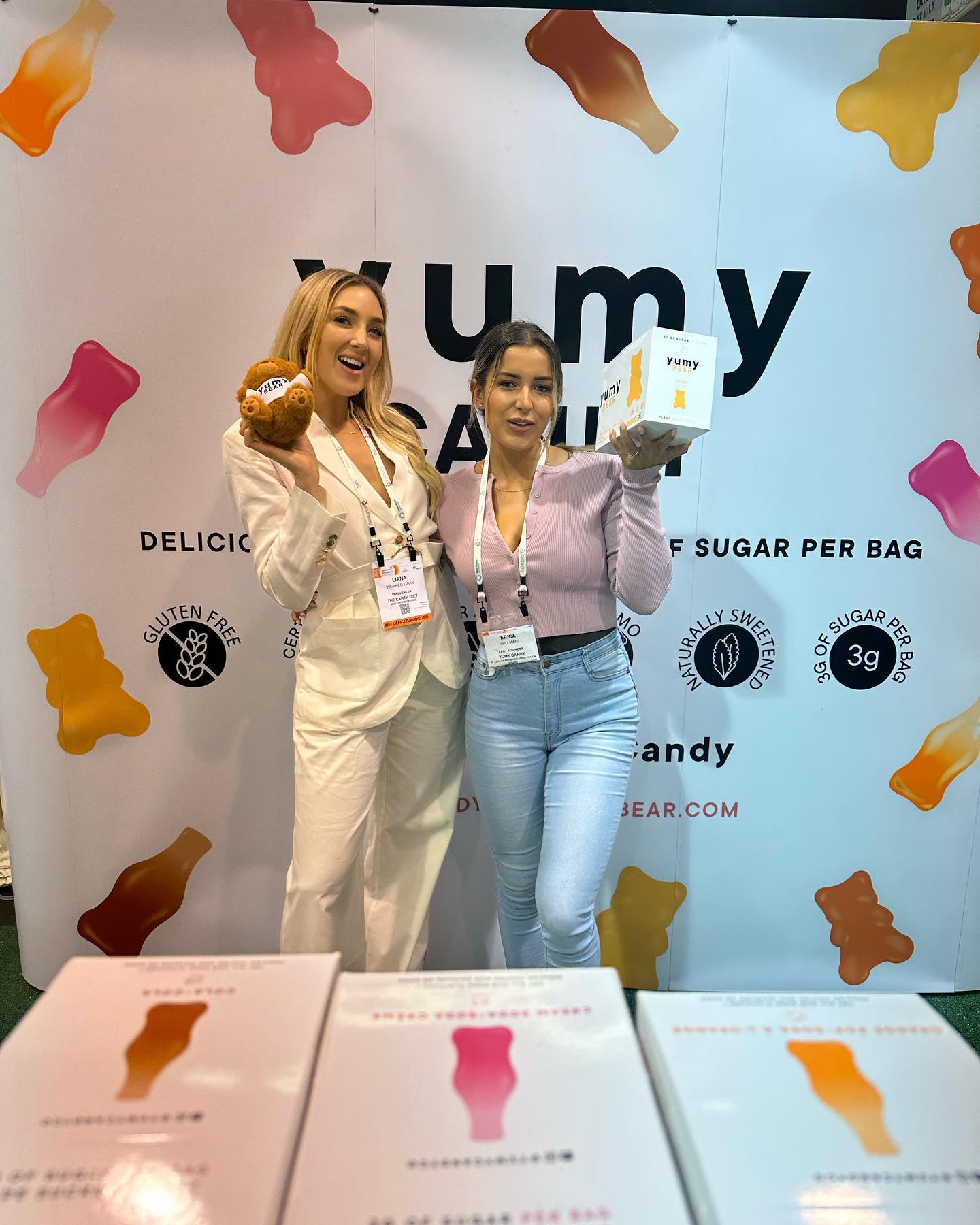 63. Paul Lepore  ? PHresh products – Raw alkalizing superfoods. Their powder can go in almost anything like a green drink or juice, added to a salad, or smoothies! This powder is so helpful and convenient for getting your green drink in.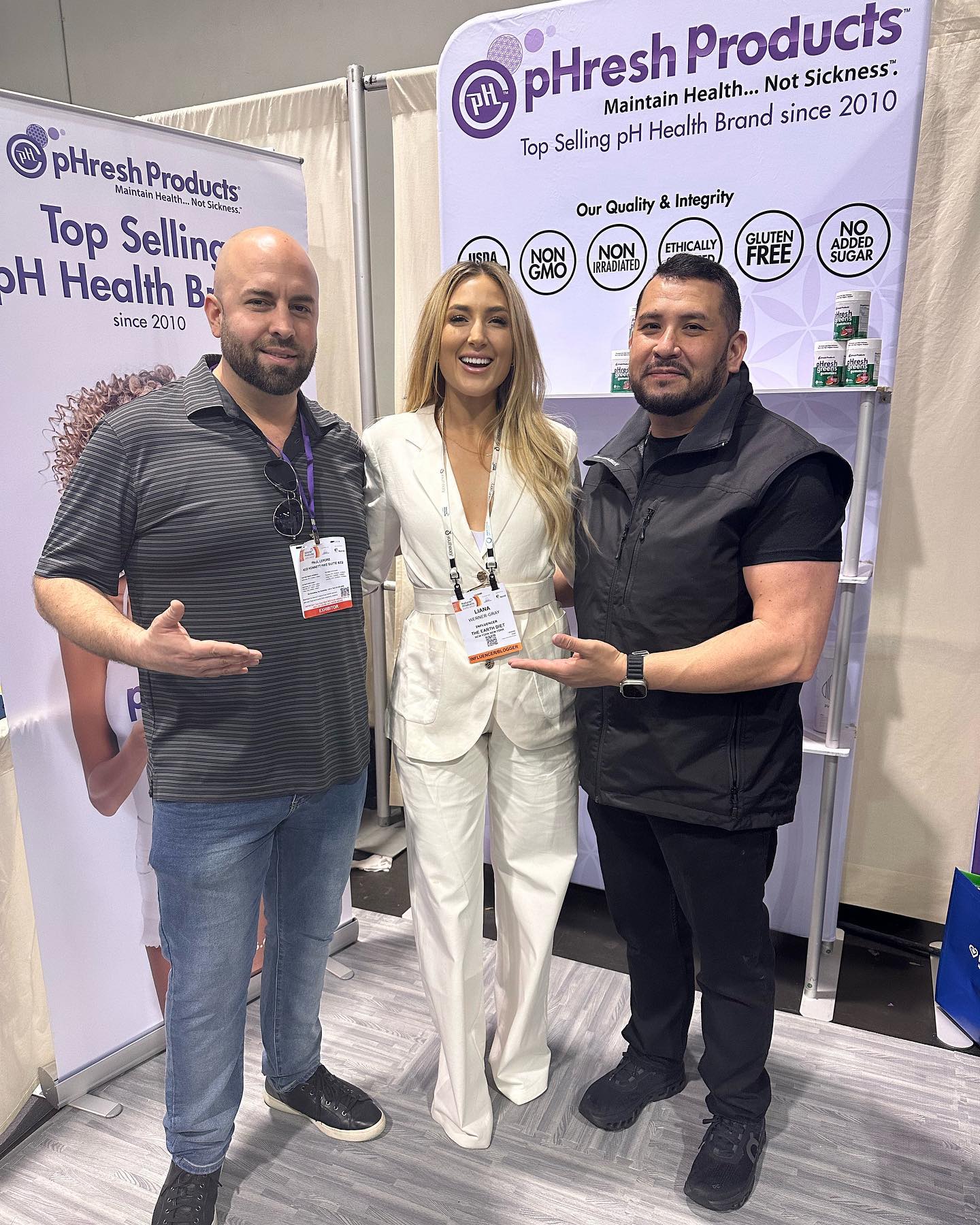 64. Ashley Spence – Social Media Marketing, and Brand Manager.
65. Alexis Autenrieth founder of My Holistic Chef – Holistic & private plant-based chef.
66. My two amazing Expo Assistants Hayley Van Buren and Amanda Guerra.