NEW YOU PLAN £30K CASH PRIZE WEIGHT LOSS CHALLENGE

Get all the details of our MASSIVE £30K Cash Prize Weight Loss Challenge. It's time to set yourself FREE in 2023.
Are you tired of making broken promises and countless failed attempts to lose weight? Are you holding onto too small clothes, in the hope that one day they will fit again? Do you hide in the background when having your photo taken? What is your weight holding you back from doing? This ends NOW! It's time to finally make 2023 your year! Join our weight loss challenge today and set yourself FREE in 2023.
Here at The New You Plan, we have set ourselves a BIG goal for 2023… we want to break our record and help as many customers as possible lose weight, feel healthy and reach their dream goal…for good.
With this in mind, we have launched a weight loss challenge unlike ever before. In 2023, we are giving away a massive £30,000 to our customers. Every 2 months, we will be giving away a total of £5,000 in cash to the customers who have created the biggest WOW transformations.
January can be a tough time of the year with the Christmas credit card bills in the post, not to mention that the prices of everything have gone up. So we want to not only help you lose weight but also give you the chance to WIN cash and make 2023 unforgettable!
Whether you want to lose 1 stone or 10 stone, 2023 really can be your year! It's time to join over 100,000 other happy customers who have already created their amazing transformations. 
Simply follow our healthy, nutritionally complete weight loss plan until you reach your ideal weight/dress size, submit a photo of yourself at the beginning and when you've reached your goal for your chance to WIN an amazing cash prize.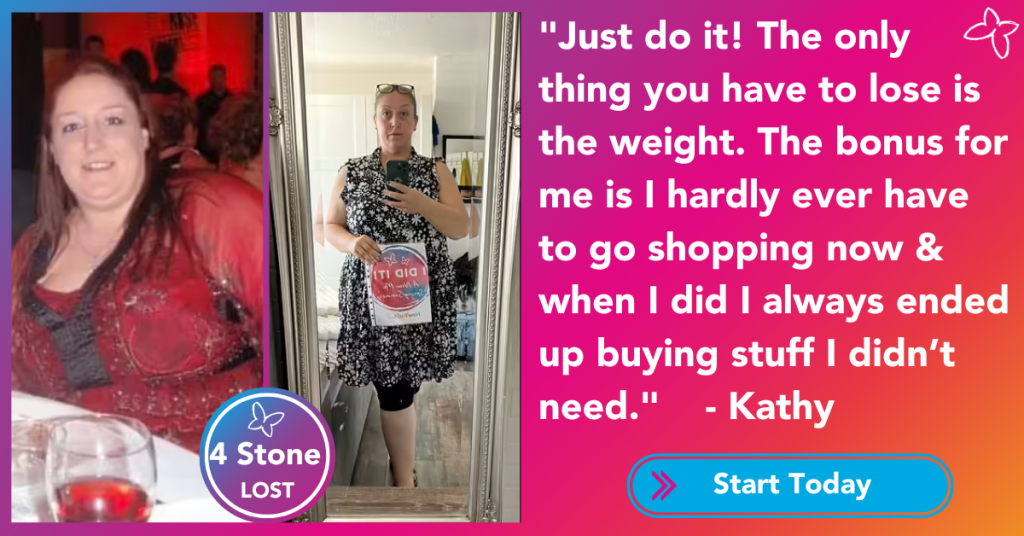 HERE'S WHAT SOME OF OUR PREVIOUS WINNERS HAD TO SAY…
Catherine lost 15st and won £3000 cash: "My health has improved massively. I was always asthmatic but I've not taken my inhalers at all in the last 10-12 months. I don't have to stop walking to catch my breath anymore. The only regret I have is that I haven't found this plan earlier."
Rebecca lost 7st and won £1000 cash: "What I liked about New You is I didn't have to think about anything because it was all just there. I ordered the 2-week bundle because I thought two weeks isn't a major financial commitment if it didn't work. I just liked how it was so easy I didn't have to worry about preparing any food or anything. I was just really impressed."
Rachel lost 3st and won £250 New You Credit: "I had lost myself since having my children and cravings don't help. So being able to feel like me is a victory. Also being able to fit into old clothes I wasn't able to fit into since I was in my 20s was amazing!"
If you're ready to take on the challenge and kick start a healthy lifestyle with a safe, approved and trusted weight loss plan that works, here's everything you need to know…

The 2023 New You Plan Transformation Challenge will run all year, with winners announced bi-monthly. Winners will be chosen from each of the following categories…
Best weight loss 7+ stone = £2000

Best weight loss up to 6 stone = £1000

Best weight loss up to 3 stone = £1000

Maintaining 1 year+ = £500

Maintaining 2 years+ = £500
That's a total of £5000 cash to be won every 2 months.
Customers can enter any or ALL of the following challenges:
Jan & Feb, New Year, New You (submit by 28th Feb)

Mar & Apr, Ready for Spring (submit by 30th April) 

May & June, Summer is coming (submit by 30th April)

July & Aug, Summer slim down (submit by 31st Aug)

Sept & Oct, Fall focus (submit by 31st Oct)

Nov & Dec. End 2023 strong (submit by 31st Dec)
If you are just starting your weight loss journey now, or you still have a good amount of weight to lose, you might find that your best chance at winning is around summer time. However, that doesn't mean you can't enter before then. Remember, we will have winners from a range of categories so you could win more than once! Plus, entering each time will keep you motivated and on track to achieving your goal.
It's free to enter, you can join at any time and you can submit every 2 months, if you wish. With winners announced 6 times a year and 5 prizes each time, that means you have 30 chances to WIN a share of £30,000.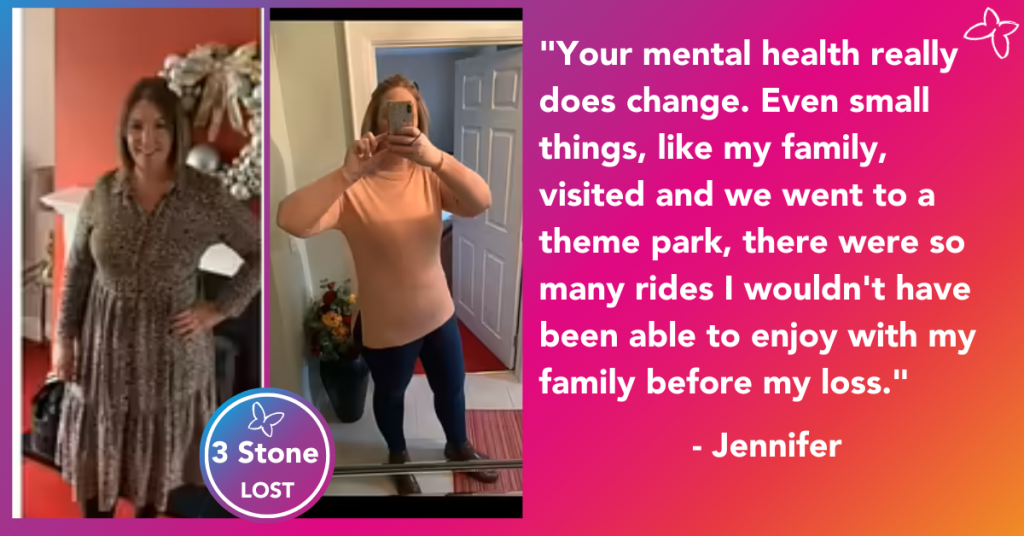 HOW YOU CAN ENTER OUR WEIGHT LOSS CHALLENGE
You can achieve whatever goal you have thanks to our nutritionally complete weight loss products and superstar support from New You. You can enter our 2023 Transformation Challenge at any point in your journey.
It's super simple and FREE!
All you need to do is take a clear full length photo holding this or any previous 'I AM IN' poster to be considered. Take your after photo with the reverse side of this poster ('I DID IT') and submit both photos by email to [email protected] to be entered by any of the dates listed above.
Download your "I AM IN" Poster below
CLICK HERE TO DOWNLOAD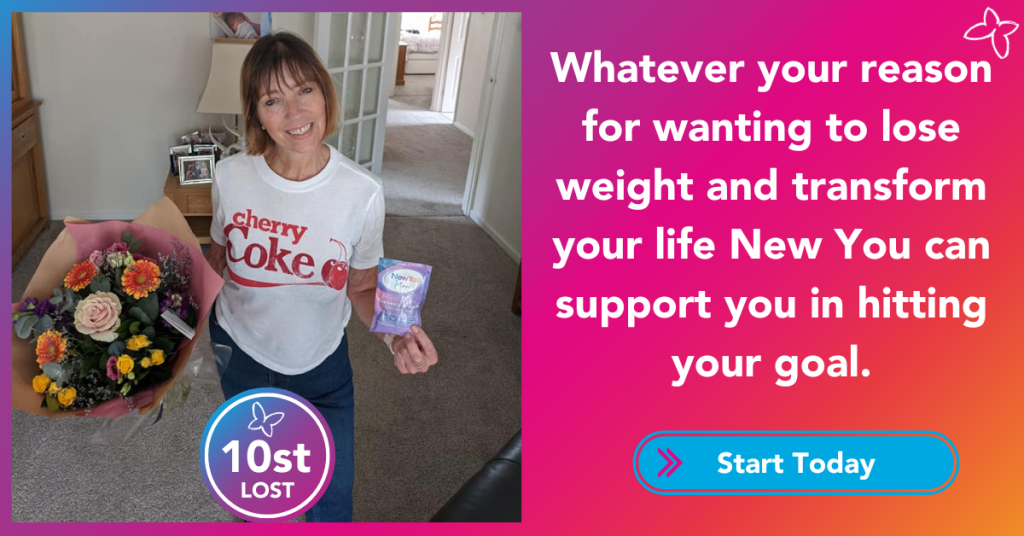 TOP TIPS FOR ENTERING THE NEW YOU PLAN 2023 TRANSFORMATION CHALLENGE
One of the things that has the biggest impact on our judges is incredible before and after photos, which clearly show our customers' amazing transformations.
With a share of £30,000 to be won in, make sure your photos are award-winning worthy thanks to our top tops…
Consider your clothes:

We know you're probably going to hate this but we need to see as much of your body as possible. Ditch the oversized joggers and baggy t-shirt in favour of leggings or shorts and a vest top so that we can see as much of your body as possible. It's also a great idea to wear a similar outfit for your after photo, as this makes for a great comparison.
Full length photos:

For our competition entry, we need full length, head-to-toe pictures of you. Take plenty of pictures from all sides and every angle, get a friend or family member to help. 
Keep the background clear:

Because the photo is full length, we will be able to see everything that's behind you.  If the background of your before or after picture is really cluttered, it can distract the eyes away from the real feature of the photo – you! So try and make the background of whatever location you choose for your pictures as clear or plain as possible.
An example of a perfect before and after photo: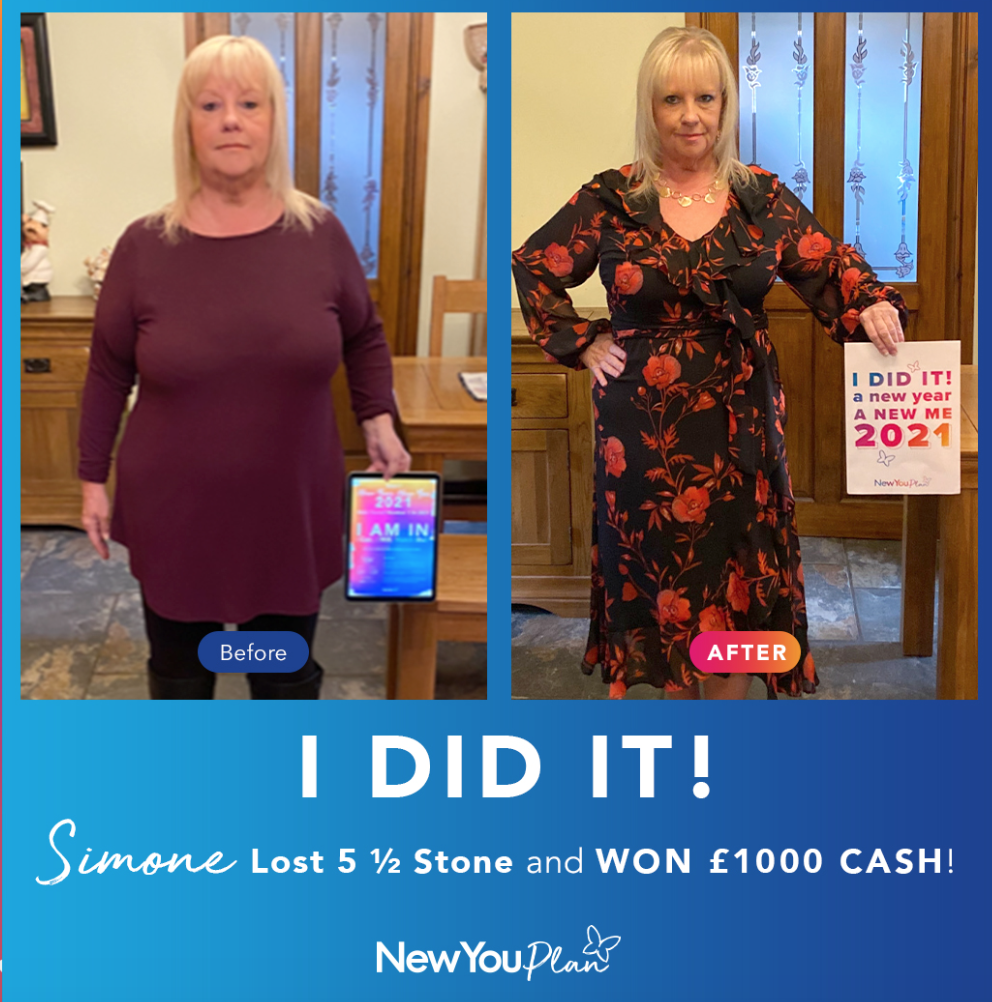 Now that the photo part is covered, here are some more amazing ways you can fully get on board and get the most out of our Transformation Challenge…
Take weekly photos: While we do only need your before and after photos to enter the competition, we recommend taking photos weekly. This is a simple and effective way to record your weight loss journey and it's amazing to look back and reflect on these photos to see how far you've come.
Take weekly measurements: Much like the previous point, taking weekly measurements will allow you to see exactly where you are losing weight. Sometimes, the scales don't always offer a true reflection of what's going on and keeping track of measurements can give a better insight.
Journalling: Journaling is an amazing way to make yourself accountable. Journaling is a very personal experience and there's no right or wrong way about it. This could be as simple as posting daily in our Secret Slimmers group, letting us know that you are set up for a 100% day, or you could set yourself a mantra every morning. Some of our customers like to write down how they are feeling every day. Again, this can be amazing to look back on when you've reached your target weight as you'll be able to see how far you've come.
If you feel like guided meditation would be more beneficial, we have created both a 'Personal Journey Journal' and 'Magical Mornings Journal'. With set questions that easily allow you to set goals and offer a place for reflection, our journals are a great way to really change your mindset and get your head in the zone. Both of these are available to purchase on our website and come free with some of our bundles.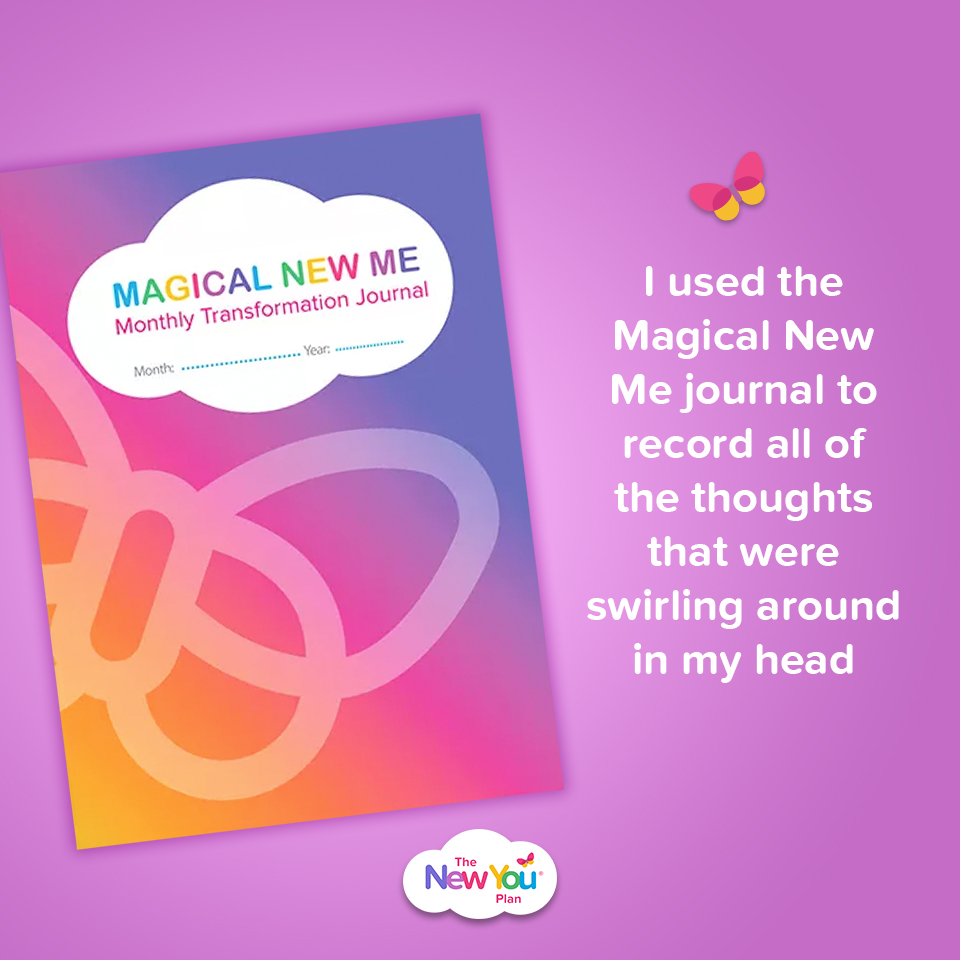 Non-scale victories: Our customers have shared some AMAZING non-scale victories with us over the years. Being able to fit into their wedding dresses again, saying goodbye to type 2 diabetes, lowering their cholesterol, running marathons, falling pregnant after years of trying, wearing a swimsuit for the first time…we LOVE hearing about how losing weight has affected your life off the scales. 
These non-scale victories apply especially to customers who are entering our 'Maintaining' categories in the challenge.
Join Secret Slimmers: If you aren't already a member of our exclusive Secret Slimmers Facebook group, join today. This amazing community is full of like-minded people, all with a shared goal; to lose weight for good, while having fun. Take part in daily challenges, get accountability, be inspired by customer transformation, discover recipes to use our products in new ways and more.
You can get as involved as you like but the more you do, the more accountable you'll be and the greater your chances of winning yourself a share of that massive £30,000 cash prize.
Good luck! x
Terms and Conditions of the Challenge:
You must be over 18 years of age

The Challenge will run from 1st January 2023 – 31st December 2023. Submission deadlines are: 28th Feb, 30th April, 30th June, 31st Aug, 31st Oct, 31st Dec.

You must be holding the I AM IN poster in your before photo (or any previous I AM IN Poster) to be considered. If you photoshop the poster onto the photo, unfortunately it will not be accepted.

You must be holding this new I DID IT poster in your after photo to be considered. If you photoshop the poster on, unfortunately it will not be accepted.

You must submit your transformation story along with your photos to [email protected] by the date of closing.

The winners of the challenges will be announced within 7-10 days of the bi-monthly challenge ending.

You can enter as many times as you wish with the same story, you can use updated photos with the poster if your transformation has continued.

The winners of the challenge will be chosen by our expert New You Plan panel including an independent adjudicator to ensure the fairness of the challenges (more details available on request).

In the unlikely event that we do not have any entries for the bi-month, we have the right to forfeit the prizes for that bi-month.

If there are no entries which meet our criteria for a given category, the judges will decide whether; 1) This will be divided between other entries that we deem worthy, or whether; 2) This will be rolled over to the following challenge, increasing the cash prize amount for that category.

If you are chosen as a challenge winner you must agree to a second set of terms and conditions that will allow The New You Plan to use your written content and images for marketing purposes.

Should a challenge applicant be found to be in breach of any New You policies, The New You Plan reserves the right to disqualify the individual(s) and any prizes or titles will be void.