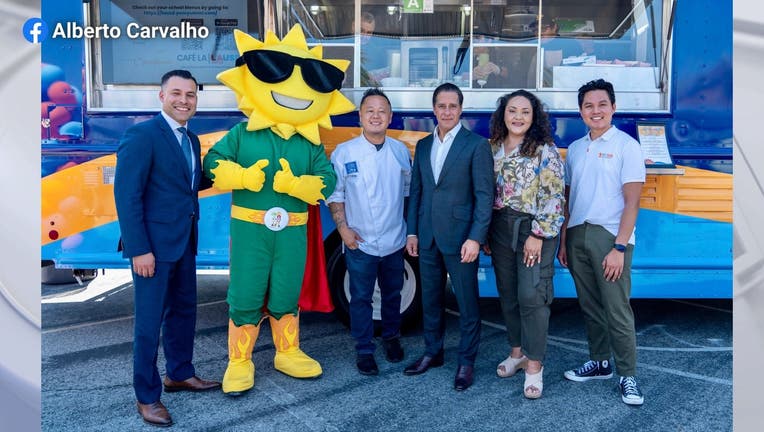 LOS ANGELES – Los Angeles Unified School District's introduction of a new food truck to its Café LA division brings them one step closer to implementing the latest in their nutritious meal strategy.
The new truck will be able to serve up to 400 students during special celebrations.
"The health and well-being of our students will always be a top priority; no one can learn on an empty stomach," said Board Member Dr. Rocío Rivas in a press release. "The district's meal program already provides regular nutrition through our campuses, and the Café LA food truck is a welcome festive addition that can provide more schools equitable access to healthy food for special occasions and celebrations."
Funded by donations from No Kid Hungry and the California Department of Education's Kitchen Infrastructure and Training fund, this new food truck will travel to schools on request to celebrate academic excellence and achievements. All the meals will be federally funded and facilitated by the state.
"It is essential that we meet students where they are with fun and engaging meals to ensure that all kids have the nourishment they need to reach their full academic potential," said Superintendent Alberto Carvalho, "There's no better addition to a celebration than a food truck serving what kids want to eat."
SUGGESTED:
The truck will offer unique menu items designed to be fun and engaging for students, such as salad, fruit, hamburgers, chicken wings, tacos, nachos, dumplings and vegan options.
"This new food truck amplifies our commitment to provide fresh and innovative meals," said LAUSD Director of Food Services Manish Singh.
According to the district, this truck is merely the first step in a full strategy of ongoing investments in fresh, healthy and nutritious meals for LAUSD students.
By the end of 2024, the district will introduce three additional food trucks, one for each of the LAUSD regions. 
Additionally, the district said it is making a significant investment in fresh, on-site cooking. So far, the district said it has invested $7 million in combination ovens and $30 million in commercial-grad air conditioning equipment in cafeteria kitchens.
SUGGESTED:
"In a District where more than 80% of our students come from families living in poverty and struggling with food insecurity, it is wonderful to see that Los Angeles Unified continues to provide delicious and nutritious meals at our school sites," said Board Vice President Scott Schmerelson.
Café LA oversees one of the largest school meal programs in the nation. LAUSD serves 525,000 meals a day and employs 3,600 kitchen staff.
"It makes such a difference for our students when we can give them meals that aren't just healthy and nutritious but delicious," said Board President Jackie Goldberg, "It enriches the soul."