Senator John Fetterman told a pro-Palestinian protester interrupting a campaign event he could not hear him because he "had a stroke."
The Senator suffered a stroke in May 2022, drawing concerns about his health and fitness to serve Pennsylvanians in Congress. In response to criticism about his health, Fetterman has said he has made a strong recovery from the stroke, which has not had an impact on his effectiveness as a senator.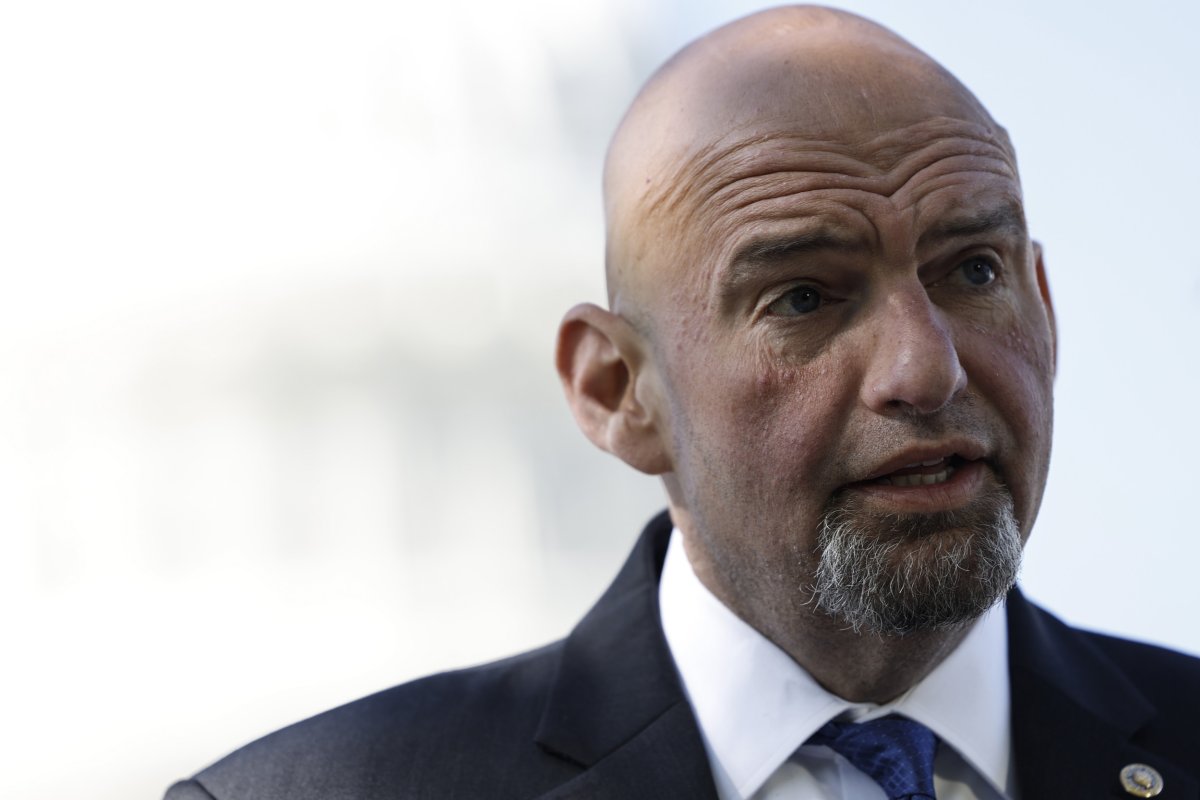 Fetterman, a Pennsylvania Democrat elected to the Senate last November, is facing scrutiny from some progressives over his response to the war between Israel and Hamas. The decades-long conflict escalated last month after Hamas launched thousands of rockets into Israel from the Gaza Strip. Israeli Prime Minister Benjamin Netanyahu has since said his country is at war with Hamas, cutting off supplies of food, fuel, electricity and medicine to Gaza while launching an invasion.
Following Hamas' attack, Fetterman said he would "unequivocally support any necessary military, intelligence, and humanitarian aid to Israel" and has dismissed calls for a ceasefire of the conflict, sparking outrage from some progressives who have raised concerns about Israel's response. Critics say Israel's response to the initial attack has been disproportionate and has resulted in the deaths of thousands of civilians, including children.
About 1,400 people in Israel and 10,022 people in Gaza have been killed amid the fighting, according to the Associated Press.
A protester interrupted Fetterman during a campaign appearance with Sara Innamorato, a candidate to become the next Allegheny County's executive, reported Pittsburgh-based television news station WPXI.
"Four dead children in Palestine. 9K plus dead civilians. Get off the stage," the protester, who was escorted out of the event by security, said. "You have blood on your hands. Get off the stage."
Fetterman responded to the protester by saying he did not fully understand what he was saying due to auditory processing issues caused by a stroke last year.
"The joke is on you. I had a stroke. I can't fully understand what you're saying," he said.
Newsweek reached out to Fetterman's office for comment via email.
Fetterman has previously faced protests over his stance on the Israel-Hamas conflict. Hundreds of demonstrators protested Fetterman's position in Philadelphia late last month, urging him to join calls for a ceasefire. Many of his former supporters have also led protests outside of his offices.
The protests reflect a growing divide among Democrats over the conflict, with progressives urging President Joe Biden and other congressional Democrats to take more action to protect civilians in Gaza. Many Democrats, however, have rejected calls for a ceasefire, arguing that Israel has a right to respond to Hamas' attack.
Uncommon Knowledge
Newsweek is committed to challenging conventional wisdom and finding connections in the search for common ground.
Newsweek is committed to challenging conventional wisdom and finding connections in the search for common ground.