Have red bumps on your arms, legs, or butt? Learn how to get rid of keratosis pilaris (KP), according to a dermatologist and an aesthetician. Plus: if it's actually possible to treat KP for good.
Now that spring is officially in gear, you may be rotating your wardrobe and unearthing your shorts, skirts, and short-sleeved shirts from hibernation. Yet if you struggle with keratosis pilaris (KP), you might be a little less enthusiastic to don these warm-weather staples.
There's nothing inherently wrong with these red bumps on your body. If you have them and they don't bother you, that's great. But if you're on a mission to get rid of keratosis pilaris to feel more comfortable and confident in your skin, you'll want to keep reading. Ahead, you'll discover the best KP tips and treatments, vetted by experts.
What Is Keratosis Pilaris?
"Keratosis pilaris is a common skin condition characterized by bumps that are red and inflamed, typically on the backs of the arms and thighs," explains Kerry Benjamin, aesthetician and founder of StackedSkincare. Due to its appearance, KP is often referred to as "chicken skin" or "strawberry skin."
"I think of keratosis pilaris as a mix between eczema and acne: It's dry like eczema but bumpy like acne," shares Kseniya Kobets, MD, director of cosmetic dermatology at Montefiore Einstein Advanced Care in New York. While it isn't necessarily attractive, rest assured that it's harmless. It neither causes adverse effects for your health nor warrants medical attention.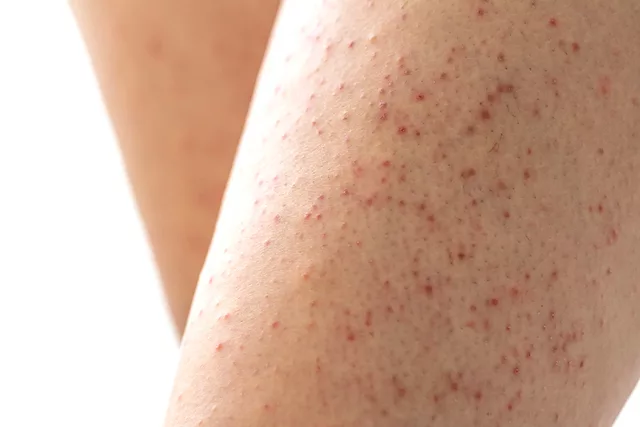 What Causes Keratosis Pilaris?
"KP is a keratinization disorder that leaves extra keratin (dead skin) in the pore," Dr. Kobets continues. A buildup of keratin will ultimately yield the red bumps indicative of KP.
Benjamin adds that KP is primarily caused by genetics, age, and hormones. "As we age, our bodies produce less sebum, which helps keep our skin moisturized and supple," she explains. "Without this moisture in the outer layer of our skin, keratin can build up easily and clog pores. This blockage creates dry, scaly bumps that may look red, inflamed, and unsightly, but generally aren't uncomfortable." (That said, even children are susceptible to it. According to the National Library of Medicine, KP typically appears in childhood and becomes most extensive during the second decade of life.)
Research shows that atopic dermatitis (the most common form of eczema) is often linked to KP, and both experts concur that people with dry skin tend to be affected. However, it can develop across any and all skin types and tones. "The keratin plugs can appear darker in melanin-rich skin, or after picking or aggressive exfoliation of the skin," Dr. Kobets adds.
How to Get Rid of Keratosis Pilaris
Now, for the million-dollar question: Will keratosis pilaris ever go away for good? Unfortunately, Dr. Kobets says that it's unlikely to clear KP completely. "Just like eczema or acne, we usually cannot 'cure' KP, but can use treatments to improve symptoms and keep them under control," she explains,
To aid your quest to win the battle against the bumps and help treat KP, heed the experts' top tips below.
1. Use a Physical Exfoliator (with Caution)
"In my experience, physical exfoliation is the most immediately rewarding treatment as it immediately smooths out the bumps," Dr. Kobets shares. However, there are several caveats for this tip. She warns that physical exfoliants can be pretty rough, so they're not ideal for those with reactive or sensitive skin. The dermatologist also advises using a physical scrub only up to twice a month, or as tolerated.
Moreover, Benjamin is less enthusiastic about physical exfoliants when it comes to treating KP. "While it may be tempting to buff away all those little bumps, [I advise against] using body scrubs and exfoliating mitts, which will irritate the skin further," she says.
Both points considered, if you do choose to proceed with a physical exfoliant, go slow and steady.
2. Apply an Exfoliating Chemical Peel
According to Benjamin, chemical exfoliants are more ideal to get rid of keratosis pilaris without aggravating your skin. "The key to eliminating KP is to soften and remove the excess keratin that's causing the bumps," she explains. "While physical scrubs can cause irritation, gentle body peels can safely dissolve the protein plugs without injuring the skin."
She suggests using the TCA Multi-Acid Body Peel by StackedSkincare once a week, which offers:
Lactic acid to simultaneously exfoliate and moisturize
Salicylic acid to clear pores and calm inflammation
Trichloroacetic acid (TCA) to resurface the skin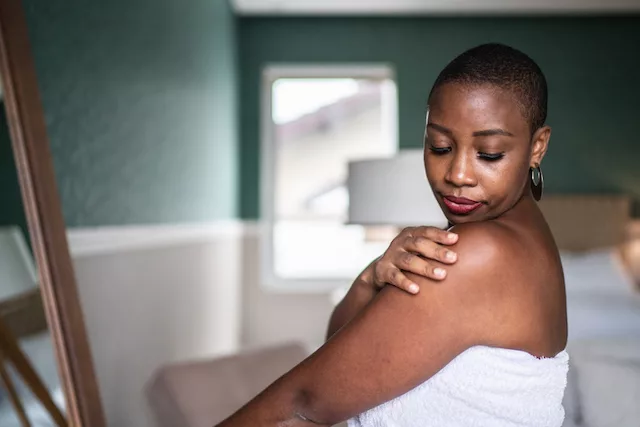 3. Avoid Hot Showers
Benjamin says that hot water can dry out your skin (even if your skin type isn't inherently dry), thus making KP worse. "Stick to lukewarm showers and limit your time in the water to 10 to 15 minutes," she suggests.
4. Moisturize ASAP After Bathing
Sure, we're all for making your daily bathing regimen a relaxing form of self-care. That said, Benjamin advises picking up the pace once you hop out of the shower or tub—and to not dry off your body completely. "Lock in moisture by applying a hydrating moisturizer to damp skin," she advises. "This helps to seal in the moisture and prevent your skin from drying out." Dr. Kobets also suggests moisturizing directly after toweling off.
5. Choose the Best Moisturizers for KP
Some ingredients in body lotions and moisturizers work better than others to get rid of KP. "Keratolytics like urea or ammonium lactate creams used daily can be helpful to keep down the hyperkeratotic plugs," Dr. Kobets explains. Need a rec? The Carea Cream by Soft Services contains 10 percent urea, which exfoliates and moisturizes (as well as hydrating squalane and soothing colloidal oatmeal) to reduce bumpy texture, quench dryness, and clear away dead skin cells.
She also recommends using a lotion that contains ceramides once or twice daily—and especially right after you exfoliate. FWIW, I've recently had success tampering down my own KP by integrating The Body Cream by Nécessaire—which contains five essential ceramides, as well as smoothing and skin barrier-strengthening niacinamide—into my post-shower lineup.
Prefer to keep your routine as low maintenance as possible? A body spray can come in handy. Benjamin suggests keeping the Hydrating Body Serum by StackedSkincare in the shower so you can spray it on as soon as you turn the water off. "It combines exfoliating lactic acid with plant-based hydrators like squalane and jojoba esters to plump the skin with moisture," she explains.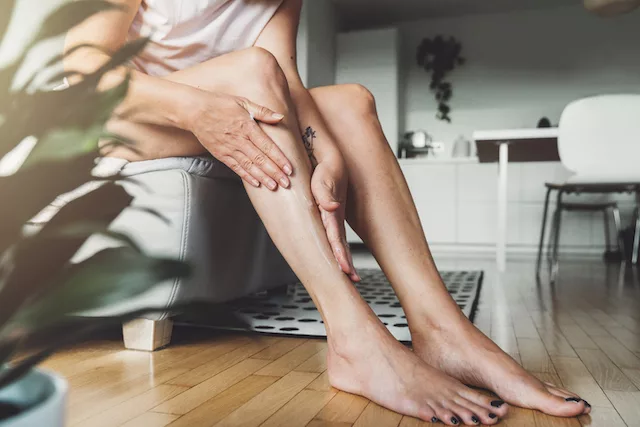 6. Consider Throwing Retinoids into the Mix
"In my practice, I also employ topical retinoids to treat keratosis pilaris," says Dr. Kobets. There's a lot that goes into her standard protocol to get rid of KP, but she says it's typically a balance of using exfoliants or retinoids three times a week and applying lotions with ceramides once or twice daily. "You can also alternate with salicylic acid, urea, or ammonium lactate creams," she shares.
If skin gets irritated following physical exfoliation—which she notes is common in patients with more melanated skin—there's the potential of developing post-inflammatory hyperpigmentation. If and when this occurs, she recommends applying hydrocortisone (Rx or OTC) one to three times a week.
"Also, when you start using exfoliators, keratolytics, and retinoids, watch for irritation so it does not worsen KP in the long run," Dr. Kobets advises.
7. (Maybe) Try Out Laser Hair Removal for KP
Those seeking out the best treatments for KP may have read that laser hair removal can help… but is it legit? "Laser hair removal can sometimes help with ingrown hair that can cause pigmentation on legs," says Dr. Kobets. However, she says that laser hair removal hasn't helped KP in her own experience.
Anecdotally, though, some people do find that it can help reduce bumpiness and improve the appearance of KP. (I've personally tried it out for myself and believe that it's moved the needle at least moderately for the red bumps on my legs—that is, on top of following the majority of the KP-clearing tips on this list.) Just note that you'll probably need to commit to multiple laser hair removal treatments and that it's not a surefire solution to treat KP.
8. Stick to Your Routine
All points considered, exfoliating gently and moisturizing with the right ingredients are tried and true ways to get rid of KP. However, Benjamin says that the real hack to treat keratosis pilaris is to stay consistent with these steps. "Peels and serums treat the problem, but won't solve it," she reminds us. "Your body will still produce too much keratin, so be diligent with your peel and moisturizer regimen for the best results."
Moreover, certain solutions (or a combination thereof) will work better for some than others. "Honestly, it's a trial and error with many of these," Dr. Kobets notes. If your bumps are getting worse or don't respond to treatments, it's worth visiting your dermatologist to find the best KP treatments tailored for your needs.