Are you struggling with finding healthy snacks for toddlers on-the-go? And getting your toddlers to actually eat healthier snacks? This is super common. Read on for five easy ways to improve your child's eating habits (they can apply to any age child)) so they get the nutrition they need while still enjoying snack time!
Do kids need snacks?
Yes! They need snacks – or small mini meals – to maintain healthy energy levels and get all the nutrients they need over the course of a day. In general, I recommend you offer younger children 3 meals + 3 snacks daily. As kids get older, 1-2 snacks a day is generally adequate. And generally, kids are busy and on-the-go, which is why these ideas are so appropriate!
What does a healthy snack for toddlers on-the-go look like?
There are many kinds of snacks – but as a registered dietitian nutritionist who has studied the science of nutrition and worked with clients for many years, I recommend the following healthy snacks for toddlers on-the-go for maximum opportunities!
5 Tips for Healthy Snacks for Toddlers On-the-Go
Tip 1: Pair Two Foods Together
Offering two different food groups at snack time means two things: more satisfaction (keeping your child fuller, longer until the next meal) and more nutrients!
Some healthy pairings are:
Strawberries and yogurt
Carrots and hummus
Tortilla chips and guacamole
Cereal and milk
Offering more than one food item is also helpful for gently exposing picky eaters to different foods that may take them out of their comfort zone as well. Keep the pressure off (do not force a bite) and just make the experience fun.
And if your children are used to having a packaged/processed type snack that you would like to get away from, offer the NEW food WITH the packaged snack instead of just taking the packaged snack away.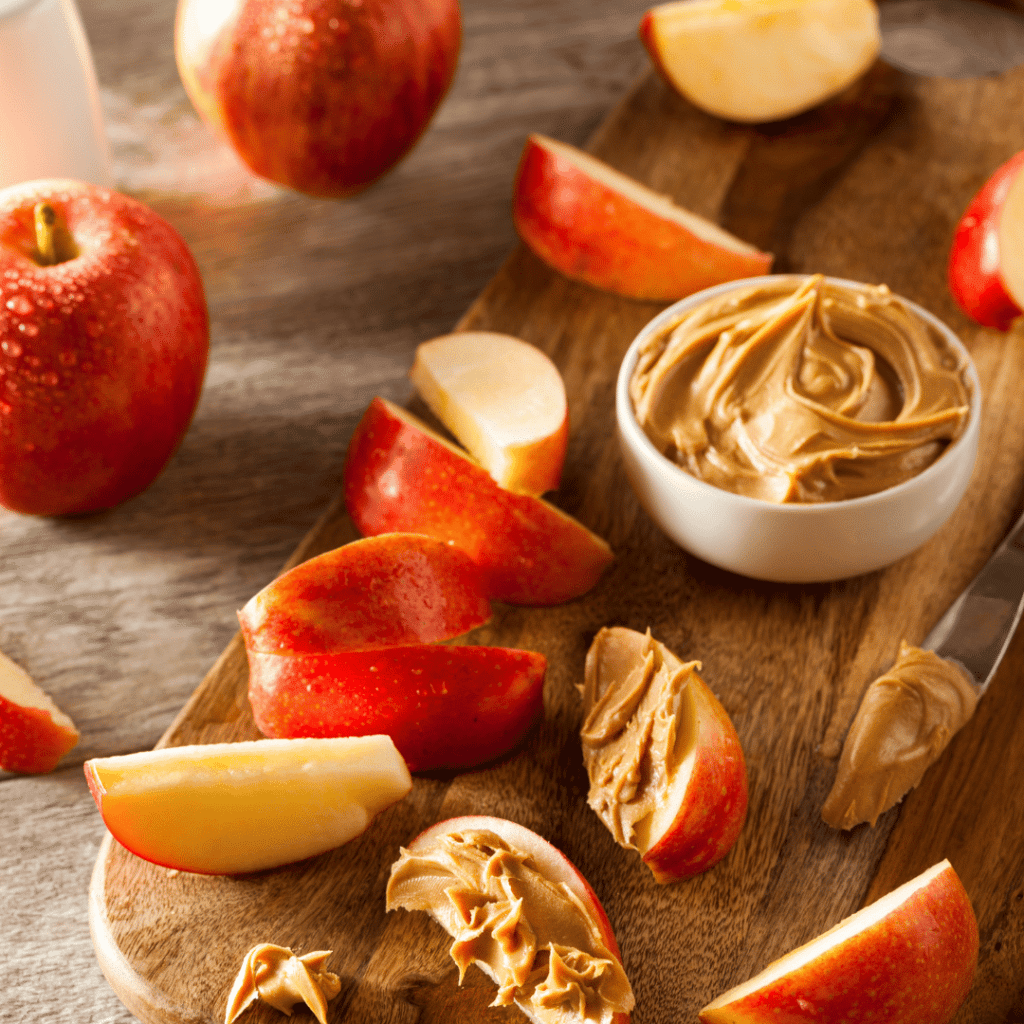 Tip 2: Try different styles of the same food!
Did you know that it can take up to 20 exposures of a new food in order for a child to accept it and actually WANT to eat it? Persistence is key and so is trying new styles of the same food. For example, think about carrots – you can try baby carrots, shredded carrots, roasted carrots, or carrot ribbons (the peels of a carrot)!
Tip 3: Keep the portions small.
If you are working on incorporating new foods with your child, snack time is a great opportunity. If they don't eat much (or any) of the new food, dinner is right around the corner. Keeping the portion sizes small makes the experience less overwhelming and also doesn't ruin their appetite for the next meal.
Tip 4: Compare and Explore!
Rather than "forcing a bite" or "eat this up so you can have ice cream", make the eating experience an adventure in a positive way. For example, put out three different kinds of apples at snack time (or try apples three different ways – like applesauce, an apple, or dried apples). And then ask your child to describe each by size, color and taste. Ask them which smells the best, which is the most red, and other fun exploring questions.
Then, cut up small slices of each type of apple and invite your child to try each slice. Which apple is the sweetest? Most sour? Crunchiest?
Have fun ranking and exploring! This is way more fun that commanding your child to try a bite!
Tip 5: Involve your Child
Your child is going to be more open-minded about foods when they have had a role in choosing or preparing them (or growing them!). For example, if you are shopping for healthy snacks at the grocery store, you as the parent choose two or three options first, and THEN ask your child which two healthy snacks they want to try this week. Then, ask them at home, questions like "Would you like your apple sliced or diced?" or "With peanut butter or cheese?"
Giving your child a choice makes them feel more invested and more likely to try what is in front of them.
Final Thoughts About Healthy Snacks for Toddlers On-the-Go
Being a parent in an environment with so many snack options can be very difficult. Try not to put so much pressure on yourself to be perfect. My goal is to help you streamline and simplify and I hope these healthy snacks for toddlers on-the-go will help you do just that! Here are a few more healthy snacks for toddlers on-the-go!
Have more questions? By partnering with a registered dietitian, you can learn how to conquer snack time with proven strategies that work. Contact me with any questions!