We're pleased to share that our Dignity Health Mercy Medical Group Otolaryngologists, also known as Ear Nose and Throat specialists (ENTs), performed their 50th Inspire procedure. Congratulations to Scott McCusker, MD; Deanne Nyland, MD; Shoab Siddique, MD and Mike Desy, OR technician on achieving this milestone.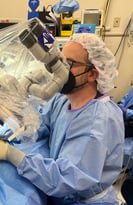 The Inspire system is an FDA-approved obstructive sleep apnea (OSA) treatment option for people who cannot use standard Continuous Positive Airway Pressure (CPAP) therapy. OSA affects 22 million Americans and occurs when the airway collapses during sleep and blocks the flow of oxygen to the brain. The brain senses a lack of oxygen and wakes the body up just long enough to take a breath, then falls back asleep. This cycle repeats throughout the night and causes poor, disruptive sleep. When left untreated, OSA can cause vehicle and workplace accidents, worsening mood and memory, stroke, heart attack, and even death. 
Dr. McCusker performs the 50th Inspire procedure
Inspire represents a significant advancement in treating sleep apnea. The Inspire system is implanted during a short, outpatient procedure and works inside the body with a patient's natural breathing process to treat the disorder. Mild stimulation opens the airway during sleep, allowing oxygen to flow naturally. The patient uses a small handheld remote to turn Inspire on before bed and off when they wake up.  
 
"We are proud to have successfully completed fifty Inspire procedures," says Dr. McCusker. "This treatment greatly improves the sleep and quality of life for eligible patients in the treatment of OSA."
To learn more about Inspire, please visit InspireSleep.com.