When Kern County resident, Kimberly Marchant first found out she had a blood clot in her heart that needed to be removed, her first thought was "I don't know how I'm going to do this." Kimberly was thinking about how she would manage the recovery from open-heart surgery, the proposed treatment for her condition.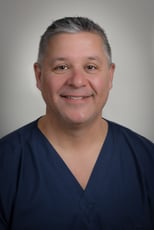 After multiple consultations and scans, Eric Peck, MD, a cardiothoracic surgeon with Dignity Health Medical Group — Bakersfield, had an idea. Dr. Peck suggested using AlphaVac technology to remove Kimberly's clot. AlphaVac is an instrument designed to suction out a mass by entering a vein to access multiple parts of the body. 
"I was instantly relieved to have this option because I wouldn't have to miss that much work," says Kimberly. "So many things in my life that are important to me would have come to a halt if I would have had to undergo heart surgery."
Using AlphaVac technology at Bakersfield Memorial Hospital, Dr. Peck was able to remove the blood clot by making an incision in the thigh, following a vein all the way to the upper right heart chamber. The procedure took under two hours to complete and Kimberly was able to return home after just one night's stay in the hospital. 
The availability of the AlphaVac procedure for Kern County residents with heart clots, tumors or other heart masses needing to be removed will dramatically improve overall patient recovery and reduce risk of complications related to surgery. The success of this procedure is a prime example of how Dignity Health continues to advance cardiovascular care by identifying new, minimally invasive solutions.
"Being at the forefront of cardiovascular care allows us to continue to improve patient outcomes, helping them get back to life more quickly," says Dr. Peck. "We frequently research new technologies and learn how they can help our patients more effectively."