Celebrity Personal Trainer Sarah Lindsay @roarfitnessgirl says goodnight to restless legs with BetterYou Magnesium Sleep Lotion. What is restless legs syndrome and how does magnesium help? Healthista finds out
Celebrity fitness trainer Sarah Lindsay, who has trained everyone from Piers Morgan, Caroline Stanbury, Millie Mackintosh, Christine Lampard and singer Pixie Lott at her Roar Fitness gyms in London and Dubai, recently posted about her issues with restless leg syndrome.
She revealed how a bedtime routine of using a magnesium lotion by BetterYou has remedied the issue.
'If you suffer restless legs this (BetterYou's Magnesium Sleep Lotion) is a game changer. I can lie still without my legs having a panic attack. Night @betteryou_Ltd,'  said Sarah in a recent Instagram post.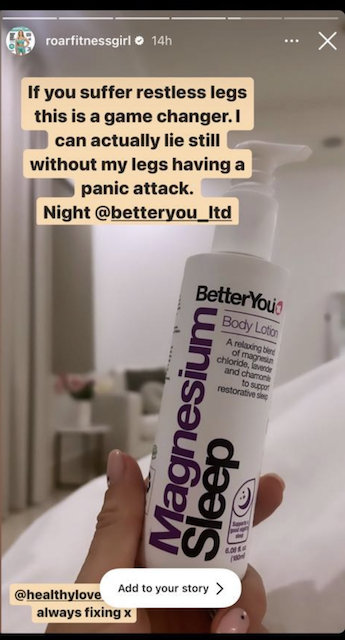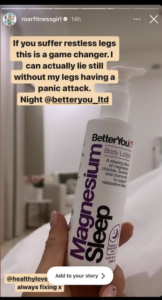 As well as training numerous celebrities to get in shape, Sarah is a  three-time Olympic Speed Skater – but with her hectic training schedule, Sarah shared that she has suffered from restless legs at night.
What is Restless Leg Syndrome?
'Restless Leg Syndrome (also known as RLS) is a condition of the nervous system that causes the overwhelming, irresistible urge to move the legs,' explains Dr Naomi Newman Beinart.
'This can keep people awake throughout the night and in search of a remedy. Poor sleep quality can have a dramatic effect on our health and, over time, can lead to problems such as anxiety, depression, poor concentration and weight gain.
'Not commonly known is that a deficiency in magnesium can be one of the main factors affecting sleep quality and can also cause RLS.
The body needs magnesium to maintain a state of complete rest, and low levels can lead to restless muscles
'The body needs magnesium to maintain a state of complete rest, and low levels can lead to restless muscles that can keep us awake at night. Magnesium also ensures the GABA receptors in our brain and nervous system are working effectively, these receptors help the brain to switch off in preparation for sleep.
'Magnesium is also a natural relaxant, relieving muscle tension and creating a calming effect across the entire body, providing a natural and safe way to relieve symptoms of  RLS'.
What can help?
Magnesium is responsible for over 300 chemical reactions in the body, and it can be difficult to get enough through diet alone.
In fact, it's estimated that 70 per cent of all adults have low levels of magnesium, with children and adolescents failing to get the UK basic RDA for magnesium.  That is why supplementation is needed as poor or specialist diets can affect absorption of essential nutrients.
Magnesium supplements are important for many people yet the mineral can be poorly absorbed when taken orally.  The answer is for it to be absorbed through the skin – an effective and convenient alternative to tablets and capsules.
BetterYou's Magnesium Sleep Lotion is a fast-acting natural remedy which is clinically proven to provide a better night's sleep. Containing skin-kind active ingredients, including magnesium chloride, lavender and chamomile, to slow sensory activity and quieten the mind, you can now get a better night's sleep, naturally.
BetterYou Magnesium Sleep Lotion can be added to the nighttime routine, applying it every night before going to sleep to stop leg twitching and improve sleep.
The Magnesium Sleep Lotion was clinically tested on 78 healthy people who identified as 'struggling to sleep' and were profiled using the NHS Sleep Assessment Questionnaire.
The results showed that:
92% found to benefit from using the sleep lotion
70% felt their quality of sleep was better after using the lotion
Over half of the users felt their sleep had been less interrupted; they felt less tired and more refreshed when they woke up in the morning.
BetterYou Magnesium Sleep Lotion is available from Holland and Barrett, Ocado, online at www.betteryou.com and from all good health stores.
Like this article? Sign up to our newsletter to get more articles like this delivered straight to your inbox.