Ben Napier is embracing a healthy lifestyle, and his wife and co-star, Erin Napier, couldn't be prouder.
The HGTV personality showed off his figure in a dress shirt and slacks in an Instagram video posted by Erin Napier on July 17.
Tagging her beau, the designer captioned the video, "@scotsman.co got hardcore about his health and fitness last winter ahead of his big shoulder surgery that was in march so he could sleep better on his back and lower his BP."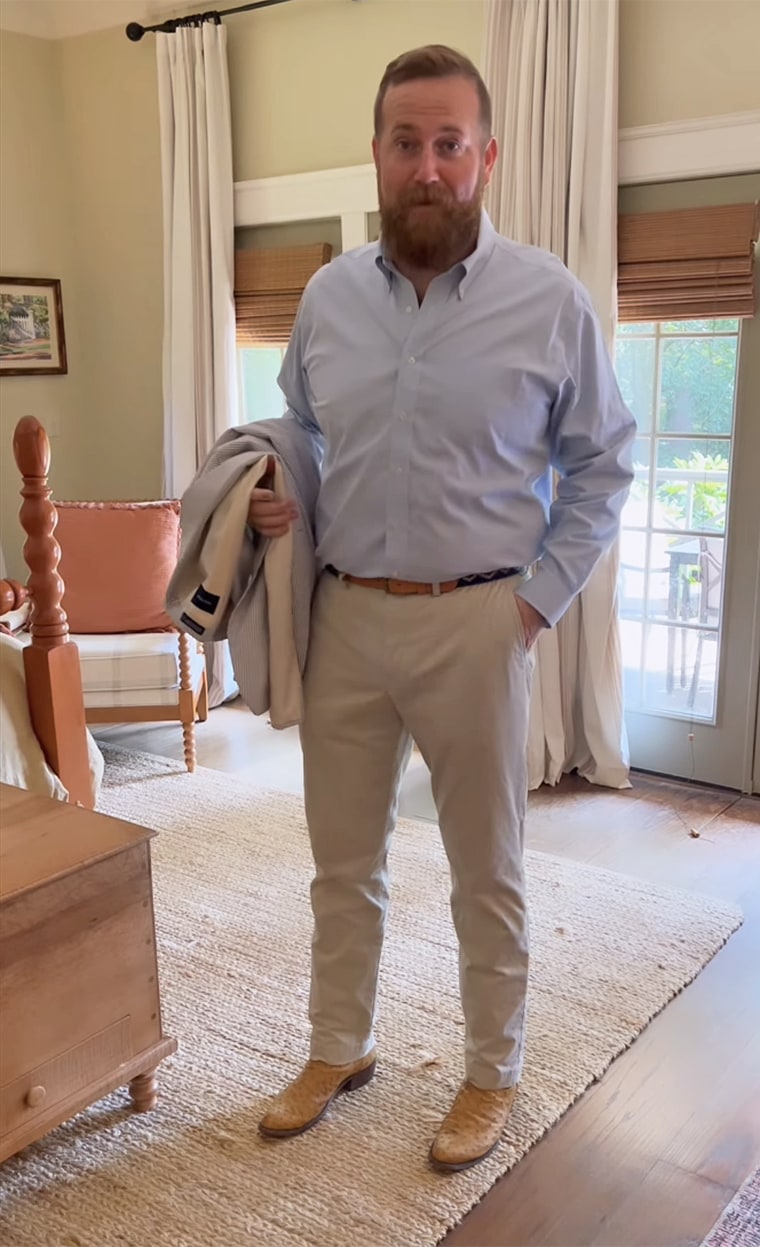 She added, "mission accomplished," with a fire emoji.
Ben Napier commented on the video, "What ya think, @people? Can I make the top 50 again? That's my real motivation," referring to his feature in People's 2021 Sexiest Man Alive issue.
On an episode of the couple's HGTV show, "Home Town," aired in January 2022, the father of two got candid about his health. The Napiers are parents to daughters Helen, 5, and Mae, 2.
"I've got two daughters," he said at the time. "I am getting older I'm trying to take a little bit better care of myself."
"I've always worked out. I can benchpress more than a lot of people, but I can't do a pull-up," he added.
The shoulder surgery that prompted Ben Napier to focus on his fitness even more took place in late March. And leading up to it, he was still hitting the gym. Erin Napier shared a sweet photo of him and their daughters in early March, with Mae lying on his chest and Helen leaning on an exercise ball.
"Somehow despite having a torn rotator cuff and us barging in and slowing him down daily, @scotsman.co has been building a gym in the barn and lost many lbs. and holy smokes what a babe with good blood pressure," the proud wife wrote with a smiley face emoji.
Shortly after the surgery, she shared an update on his condition, posting a photo of him in an arm sling surrounded by stuffed animals. In the pic, she held up a piece of paper with hearts colored in, presumably a get-well gift from their daughter.
In the Instagram caption, Erin Napier wrote that her husband had had a rotator cuff repaired, bone spur shaved off and cartilage trimmed — and she joked that she's the "best nurse in the biz."
The woodworker later shared his own update on his recovery in a video in early April. He showed off a few colorful bandages chosen by daughter Helen and explained that he'd need physical therapy for seven weeks.
"I've got the BEST nursing staff at my house," he captioned the clip "Gonna be good in no time. #YoureWelcome #SpecialBandaids."