Helllooo, besties! I am back! I didn't end up posting last week because we were just getting back from our trip to Santa Barbara & mama was wipeddd out. It was one of those moments where I had to ask myself: what can I not do this week so I can get back to equilibrium? So I had to step back from a few things, and it served me well because I am now recharged & feeling like myself again. 🙂
Let's get into this week's 12 Things Tuesday!! We have so much to catch up on! & next week I really want to do a focused topic for the 12 things, so let me know again below what topic you'd love for it to be about — products, spirituality, motherhood, astrology, being an HSP…?!
12 Things Tuesday!
1. Firstly, formatting this post just gave me an amazing flashback to middle school and even elementary school when I would blog on AOL message boards & give advice, make my own fonts, do backend coding to make my fonts a bunch of different pastel colors, I did the damn thing. It is amazing looking back and thinking there truly could be no job more suited for me than this one. I have always loved connecting and found the internet to be such a cool place to do it. The fact that we can reach people anywhere in the world and in such an immediate way?!?! I will never be over it.
2. Speaking of that, did you guys see the photo I posted to my stories the other day of me in middle school setting up a photoshoot in the mall (in front of a Ben & Jerry's, no less! 😂) to show you that the blogging life runs deep in my veins?! I would post to my Xanga every weekend about my weekend, my thoughts, and give advice. It was so much fun. Having a major flashback moment right now & feeling so grateful for this little space on the internet & everyone who is here in our community. <3 I am a lucky girl. Here is the photo in question!!!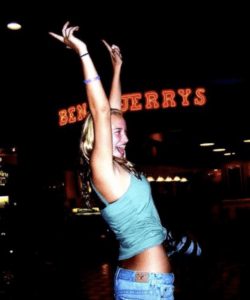 3. Ok soooo, a lot of you have been asking about the results of my DUTCH hormone test. I want to do a full deep dive on this, but the main gist of it is that my estrogen was extremely high. Like, off the charts high. Which is so wild because I eat so clean, I do not drink out of plastic, I have been working on my hormones/health for so long… but postpartum life can really do a doozy on our bodies. And it definitely has with mine. So I have started taking a supplement called FemGuard + Balance, and it has a bunch of amazing things in there that help balance hormones like DIM, Chaste Tree extract, Broccoli Seed, Resveratrol & more. I will update you guys on how it's working for me… I am hoping for the best.
4. The rest of my DUTCH test was pretty much normal which feels like such a blessing after the long health road I have been on, but also I am confused because I still have so much inflammation in my body. I know that MCAS is flaring off the charts right now, hence the fun rashes I have all over my face again. We are figuring it all out, but sometimes this shit does get very tiring. To anyone else dealing with an autoimmune condition, I see you. <3
5. Yesterday we did a super fun mother & baby shoot with an incredible studio photographer and I am soooo excited to see the photos. I went all out and got a spray tan, got my hair & makeup done, and Attie took a nice, long 3 hour nap before the shoot which was just perfect how that worked out. Time is moving so fast these days I just want to bottle it all up, and I really wanted to be sure we captured some extra special shots at this age. 1.5 years is the cutest freaking age yet. He was listening to the photographers so well and we such a natural, my mom and I kept saying he needs to be a model!! We shall see if I can ever convince Jonathan that that's a good idea. 😉
6. The last few weeks of podcasts have been really special!! Have you tuned in? We had Kenzie Burke on discussing the topic of ebbs & flows of friendships (and our own friendship ebb and flow story), and I loved sharing that topic because I feel like it's seen as very taboo and isn't talked about enough. We also had a bonus episode with the founders of Fatty15, an amazing C15 supplement that was created for longevity and was discovered by working with dolphins in the navy!! It was fascinating. And then we had my dear friend Samantha Demarkles on to discuss single motherhood — she has 3 boys under the age of 6. Highly recommend that one. She's incredible.
7. Annnndd tomorrow's ep is with Ainslie MacLeod — the talented medium & past life psychic who has been featured on Oprah, Ellen Degeneres, and more! He has been around forever. Having him on felt like a dream come true. Who is planning to listen?!
8. Jonathan got me all of these cute Bravo stickers for my Stanley and now every time I look at it I laugh out loud. The highlights are Kathy Hilton saying "who is hunky dory?" & Vicki Gunvalson screaming about a little family van. Best stickers I've ever had. If you understand these references you must tell me below because we are cut from the same cloth if so & I am OBSESSED.
9. I am currently sipping out of my TBB Visualize It mug, and I've just gotta say I feel like these mugs didn't get quite enough hype. They are a viiiibe and I use mine every single day. Perfect gift for a spiritual friend in your life, or a coffee lover. Right now I am drinking my decaf with almond milk in it and it is the BEST.
10. The decaf I am into right now is the brand Canyon Coffee. It is the best I have tasted by far and isn't bitter at all. For all of my fellow caffeine-free peeps, you've gotta check it out!
11. Speaking of hormones, I am also doing another hormone test right now… the saliva test by Veracity!! You can go to veracityselfcare.com/balanced to get 20% off of your hormone testing kit and their amazing hormone-friendly skincare. I am obsessed with this brand right now. Not sponsored, just want to share the love. Doing this and the DUTCH test will give you an amazing baseline of info to take care of any hormonal imbalances.
12. I am reading a new fiction book right now that I am LOVING. It's Happy Place by Emily Henry. I wasn't sure if it was going to be too beach read ish for me, but I am very into it and I have been flying through it. Highly recommend.
13. Have you been watching TBB podcast on my YouTube?! We've been releasing episodes about two weeks after the audio release and it is a super fun way to engage if you are more of a video person!!