If you're looking for a quick and easy snack that you can pack for camping, check out these healthy camping snacks you can take on the go. Mason jar snacks are the perfect solution to making them easy to transport too! Planning them is easy, let me show you how!
Simply fill a mason jar with your favorite bites, seal it up, and you're good to go. Best of all, mason jar snacks are easily customized to fit your taste preferences. Here's how to build the perfect mason jar snack for camping: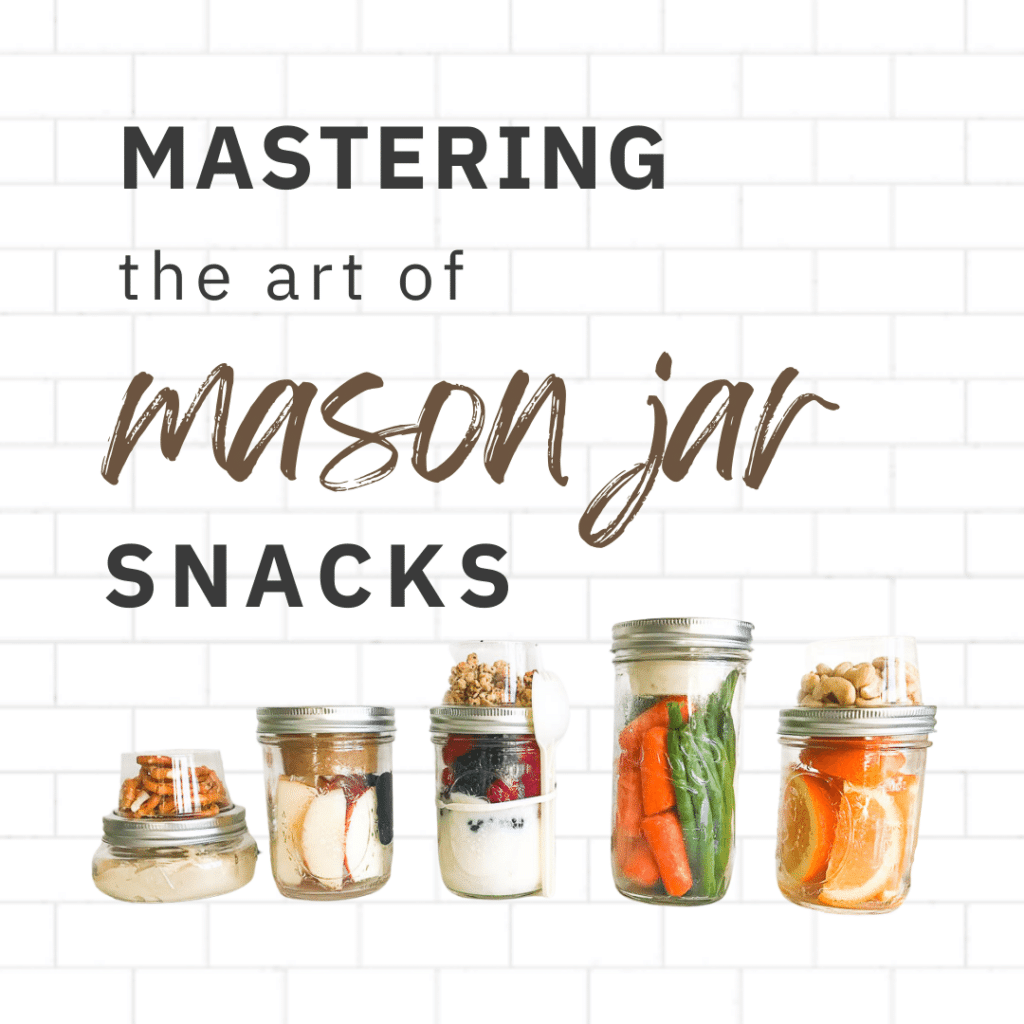 Tips for Making Healthy Camping Snacks
With any snack, we want to have it include two food groups (protein and carbohydrate) – for both staying power and also for extra boosts in nutrition. Before we dive into the healthy camping snack ideas, I wanted to share some examples of protein and carbohydrate so you can get a sense of foods that fit those categories.
Protein
Hard cooked eggs
Peanut butter or other nut butters
Nuts and peanuts
Beans
Seeds (pumpkin, sunflower, chia, flax)
Yogurt
Cheese
Milk
Seafood (tuna)
Poultry (chicken and turkey)
Red meat (pork, beef)
Carbohydrates
Whole grain crackers
Whole grain bread
Pita bread
Pita crackers
Whole grain tortillas
Pasta and rice
Fruit (fresh, frozen/thawed, dried, canned)
Fresh vegetables
Milk/yogurt (counts for both carbohydrate and protein)
Tips to Making Healthy Camping Snacks in a Mason Jar
Here are our tips to help you create a balanced and delicious portable snack in a jar. 🍽️✨
First gather your needed supplies:
A variety of wide-mouth Mason jars with lids (both the disc lid and the outer rim)
Empty individual applesauce containers or purchase 2 ounce plastic containers
Rubber bands
Utensils of choice
Process of Making Healthy Camping Snacks in a Mason Jar
Fill 2 oz. cup with a smaller portion of food [nuts, seeds, hummus, dressing, etc.] and drop into the inverted rim of the lid. Place disc of lid on the mason jar and quickly invert 2 oz. cup with the rim on top. Twist to secure.
Special tips:
1️⃣ Layer it Right: 
Start with a solid foundation by layering your ingredients strategically. Begin with a firm base like raw firm fruit [apples] and veggies [celery] plunged into a creamy dip like hummus, bean dip, or nut butter. 
Keep your ingredients fresh by packing your mason jar snacks strategically. Place delicate foods like fruits on top to avoid getting mushy.🍓
2️⃣ Top it Off: 
Using 2 oz. plastic cups or cleaned applesauce containers, add granola or nuts as a topping to sprinkle when ready to eat. 
3️⃣ Using a rubber band, secure a utensil, to the side of the Mason jar. It will be necessary for snacks like yogurt and convenient to scrape out any leftover creamy base.
Food Combinations for Healthy Camping Snacks
Fruit + nuts: Place easy-to-eat fruit, like berries or sliced oranges, in the bottom of a mason jar.
Vegetables + clingy dressing: Place cut-up vegetables in the Mason jar then fill 2 oz. cup with hummus, bean dip, or clingy dressing. Drop cup into jar top with lid and disc – twist to secure.
Yogurt + fruit + granola: Scoop the yogurt into a Mason jar and top with fruit. Follow the method for adding granola.
Fruit + nut butter: Place sliced fruit in a Mason jar and fill 2 oz. cup with nut butter. Drop cup into jar top with lid and disc – twist to secure.
Hummus with pretzels: Scope hummus or another bean dip into a short mason jar for easy dipping. Fill 2 oz. cup with preztels or crackers and drop cup into jar top with lid and disc – twist to secure.
Pack these jars in your cooler as needed (especially if they have fresh fruit or dips or yogurt or vegetables in them) for food safety.
Incorporating fruits and veggies into the healthy camping snacks make it easier to get those fruits and vegetables in!
You can get your family involved as well. Have them pick their own combinations and pack them too! Plan for one snack per person per day.
With these snacks, your energy and metabolism will be at its best – because the combinations of foods you are putting together work best for optimal energy!
If you love camping, check out my other healthy camping exclusives:
For more details on mason jars, find that here.
Grab your special printable for healthy camping snacks here!