When it comes to fit, improper sizing can make a smartwatch feel clunky, even snagging on clothing or the occasional door handle. It can also prevent features like health and fitness tracking from working when the sensors cannot rest on your wrist properly. That's less than ideal, especially after shelling out the dough for one. To help tailor tech to women, manufacturers began crafting smartwatches to accommodate a woman's wrist size and style preferences.
Popular watch company Garmin jumped on the bandwagon, making some of the best smartwatches for women that are available today. With built-in GPS, fitness features, and even stress tracking, women no longer have to sacrifice features for size with their new best smartwatch.
The top picks for Garmin smartwatch for women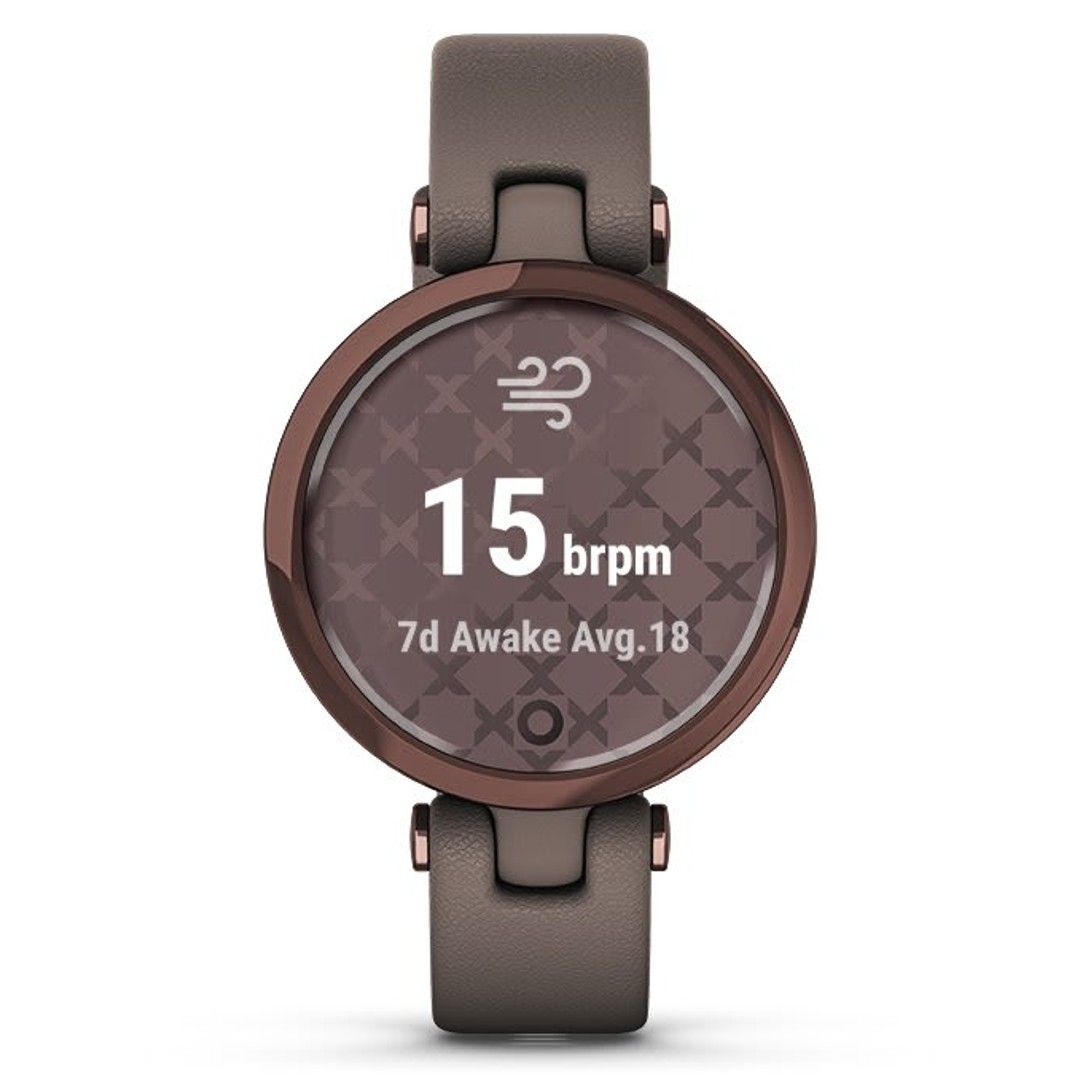 Garmin Lily

Best overall
A Garmin smartwatch made just for women
The Garmin Lily is the best smartwatch for women overall, thanks to excellent health features and a compact design. Use the touchscreen to access notifications, respond to texts, and access health tools. For added customization, there are multiple colors available to add a pop of personality to your wrist.
Pros
Compact design
Superior health tracking
Water resistance
Cons
Mediocre battery life
No color display
Not ideal for music
The Garmin Lily is a standout choice for its petite size and plethora of features. One of the best option for women, the Lily is available in various colors and boasts a sleek, stylish design in a comfortable package. Its tiny size belies its capability, packing serious features into a seriously small space. There are even classic and sport styles, depending on the design preference, with both leather and silicone bands.
The display, set in a round, 34-millimeter case, transforms into a touchscreen with just a tap. There are easy notifications for phone calls and emails, and you can even respond to text messages when you use your Android phone. You can also review your calendar to check appointments and plans.
There are excellent health tools, as well. It has Breath, Heart Rate, and Sleep monitors for health stats, plus a Daily Workout Memory for easy fitness tracking. The handy Body Battery monitors energy for a well-rounded look at wellness, and there is even stress tracking to help you relax, with the ability to check energy levels throughout the day. Women will especially appreciate special features designed with them in mind, like the ability to track your cycle and access the integrated pregnancy tracking app.
When it comes time to hit the gym, you will find sports apps for things like yoga, Pilates, and cardio to help you along. There is also a built-in step counter and a workout tracker showing calories burned.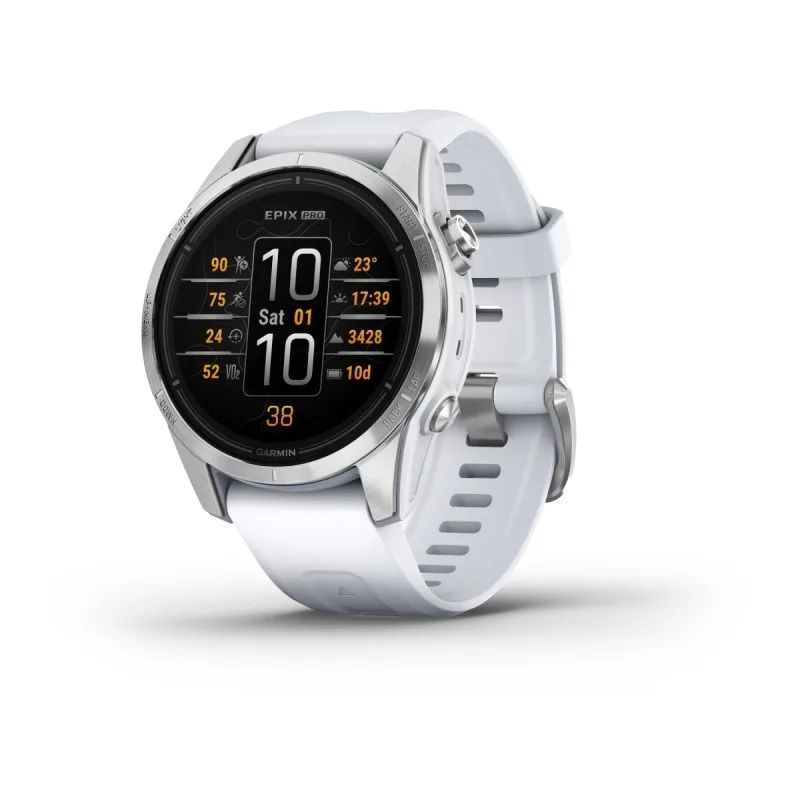 Source: Garmin
Garmin Epix Pro (2nd Gen)

Premium pick
When you have more to spend
$815 $900 Save
$85
Choose the Garmin Epix Pro (Gen 2) when you want the best Garmin features with an always-on AMOLED display. There are 24/7 health and wellness monitoring tools, plus a built-in sleep tracker and advanced training support for those workouts. Even better, you can choose your watch size with multiple options available.
Pros
Integrated GPS
Excellent battery life
Multiple sizes
Cons
Pricey
No microphone
Lacks Qi charging
The Garmin Epix Pro (Gen 2) is a great pick for a number of reasons, including sleep tracking and statistics. The AMOLED display remains on for easy access at all times, and the battery lasts up to 16 days in smartwatch mode before needing a charge. It's even available in a trio of sizes to help you find exactly the right fit for your wrist. Better yet, it comes packed with impressive features. There is 24/7 health and wellness monitoring, including morning reports and advanced sleep monitoring. There are also advanced training technologies like Pulse Ox and HRV status with strength training features.
That's far from all. This best Garmin smartwatch for women has all sorts of extra fitness and health features to go that extra mile. It tracks your activities for favorite sports like football, soccer, and baseball. Take this watch running, and it will give you an endurance score and even deliver a hill score that reports on your running strength, stamina, and endurance. If you prefer golf or skiing, there are integrated maps available for preload to use at golf courses and ski resorts around the world.
The built-in flashlight with multiple light intensities is an extra bonus for those evening adventures. For extra fun, set it to Strobe mode so it matches your running stride.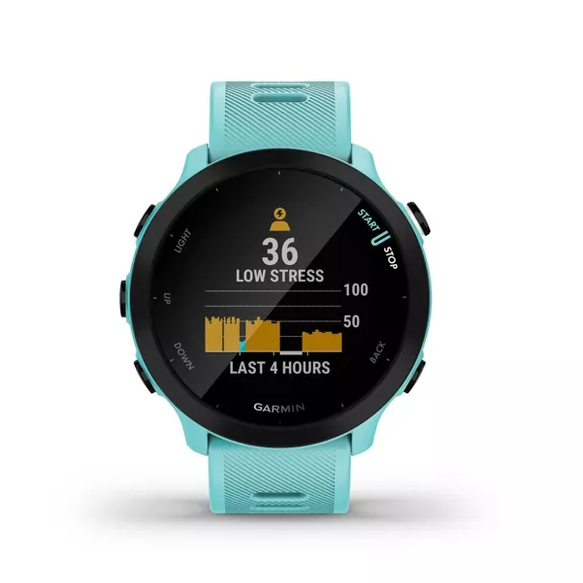 Garmin Forerunner 55

Best value
Get the best bang for your buck
The Garmin Forerunner 55 is the best Garmin smartwatch for women when you prioritize value for your dollar. With its affordable price tag, you still get Garmin's industry-leading fitness tracking features with daily suggested workouts and training tools. GPS comes already built in for easy tracking and mapping abilities.
Pros
Excellent display
User-friendly
Lightweight
Cons
Disappointing battery life
Lacks music storage
More basic health reporting
The Garmin Forerunner 55 is a user-friendly watch with all sorts of fun features for your daily activities. Unlike many other smartwatches for women, this one features built-in GPS with Bluetooth. That means personalized tracking for all of your favorite activities, whether it is biking, swimming, HIIT, Pilates, or even breathwork. Users will enjoy encouragement and inspiration from Garmin's daily suggested workouts while benefiting from special training tools, all designed to help promote an active lifestyle. For example, this smartwatch will track your workout using metrics like intensity minutes and daily respiration to deliver a report of your overall wellness.
Runners will especially love the Forerunner 55. It has a wealth of features designed specifically for those who sprint and jog. The watch logs stats on distance and speed with a mapping function that shows your completed route. It can even predict how long the race will take you and when you might hit the finish line with PacePro. The function works with GPS, allowing you to strategize based on the individual intricacies of each course.
There is a delicate LCD measuring just over an inch and is easily customizable when you download free watch faces and apps from the Connect IQ Store. The battery life is generous, too, lasting up to two weeks for fewer interruptions when you are on the move.
Source: Garmin
Garmin Venu 2 Plus

Best for fitness
Athletes rejoice
The Garmin Venu 2 Plus is a great choice when you want the best health and wellness features for your daily life. Enjoy over 25 pre-installed programs to give your regular workouts a boost with new tracking tools to monitor your progress.
Pros
Superior brightness
Excellent health tracking
Great battery life
Cons
Single size option
UI could be improved
No wireless charging
The Garmin Venu 2 Plus is a fantastic watch for athletes. No matter how you like to exercise, there is probably a program for that. Garmin offers over 25 pre-installed programs for all of your favorite activities, whether it is running, cycling, swimming, golf, or simply walking. You can also explore new exercise types with preloaded workouts like Pilates, HIIT, yoga, cardio, and strength workouts. You can even create your own workout to customize your fitness to your own body. Either way, all you need to do is access the Garmin Connect app on your Android phone. Built-in GPS helps deliver the type of reporting you need to help keep your health on track.
The integrated sleep monitor means you can access regular sleep scores, plus heart rate and breath monitors for tracking throughout the night. With all of this, you can receive comprehensive reports about your health, like a Body Battery energy report or Health Snapshot to track your regular stress levels. You will even receive a fitness age that takes into account all of this data.
This smartwatch is perfect for women with its round 1.3-inch screen. It offers incredible brightness and clarity, thanks to the AMOLED display. Connectivity is great, too. When you pair your watch to your smartphone, you can also use this Garmin smartwatch to make and answer phone calls, send text messages, and even control your smart home devices.
Source: Garmin
Garmin Fenix 7S

Best for sports
Made for your busy athletic life
The Garmin Fenix 7s offers a rugged build that's perfect for the outdoors but is still made for a woman's wrist. The durable fiber-reinforced polymer case is ready to take on those outdoor activities with over 30 pre-installed programs available for your daily inspiration. An extended battery is the icing on the cake.
Pros
Generous fitness features
Solid build
Integrated flashlight
Cons
Dim display
Finicky map feature
On the pricier side
The Garmin Fenix 7 release created enough of a stir on its own, but the addition of the Garmin Fenix 7s brings a whole new wave of excitement with its features. Its rugged build is made to stand up to the outdoors with a fiber-reinforced polymer case and includes a touchscreen display on an always-on 1.2-inch screen. There is also built-in music storage available, allowing you to take your tunes on the go. Plus, battery is not a concern when you switch your smartwatch to Expedition mode, giving you up to 26 days of battery for extended use.
Like the Garmin Venu 2 Plus, there are over 30 available workout and sports programs that are built in to help you take your fitness to the next level. Enjoy HIIT workouts with unique suggestions each day to help keep things interesting. In addition to its PacePro Technology, enjoy additional features like Visual Race Predictor and ClimbPro Feature. And there are more sports-specific programs like Backcountry Ski and XC Ski Dynamics for winter fun, as well as special surfing features for the summer months.
There are a ton of health and wellness features, too. With the Garmin Fenix 7s, you can check your stamina in real-time and benefit from 24/7 health monitoring and heart rate tracking. Performance metrics are also available so you can improve over time, and the Recovery Time Advisor ensures that you give yourself enough time to rest between workouts.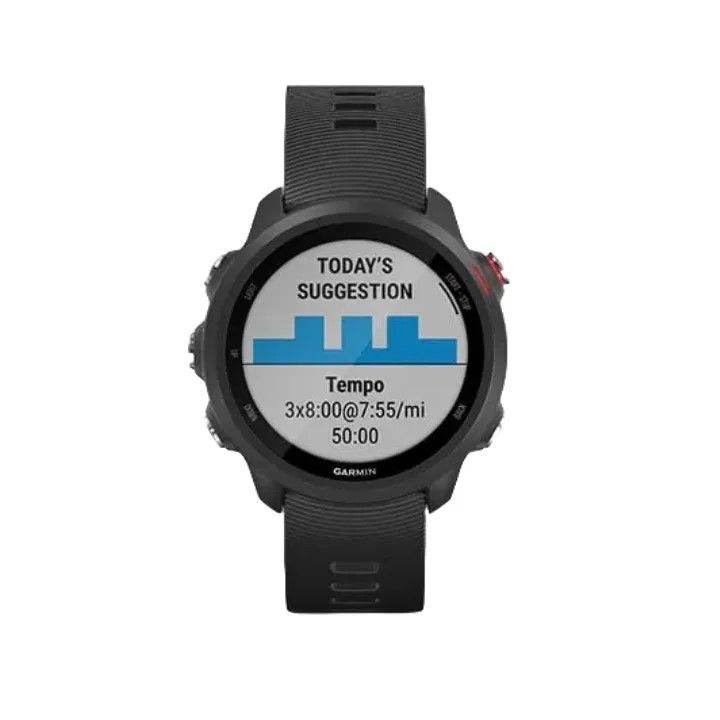 Source: Garmin
Garmin Forerunner 245 Music

Best for music
Enjoy your favorite tunes on the go
The Garmin Forerunner 245 Music offers built-in music storage, so you can enjoy your soundtrack while listening to your favorite streaming service. There are still all the outstanding fitness features you have come to expect from Garmin.
Pros
Built-in GPS
Comfortable fit
Music storage
Cons
Somewhat tedious navigation
Lacks Garmin Pay
Poor battery life
The Garmin Forerunner 245 Music is far from your standard smartwatch for women. What is unique about this watch is its music capabilities. It easily connects to your favorite music streaming service, like Spotify, to access all of your favorite tunes. There is even onboard storage, so you can keep your favorites readily available. With music proven to help improve your workout, this smartwatch combines fitness features with music to change the way you approach your fitness.
You still receive all of your athletic benefits, though. With its performance monitoring features, it will evaluate your efforts and let you know if your training status is too much or not enough, helping to guide you toward the right activity level for your body. Runners can also track ground contact and stride length to better understand their performance in races. You can even work with a Garmin coach to create a free workout plan, or you can go to Garmin Connect to make your own. GPS is included, too, with safety tracking to summon help if you have an accident while out and about.
The watch has a 1.2-inch display with tough Corning Gorilla Glass 3 and is surrounded by fiber-reinforced polymer with silicone for a build that is meant to last. However, watch out for the battery on this one — it only lasts up to seven days in smartwatch mode.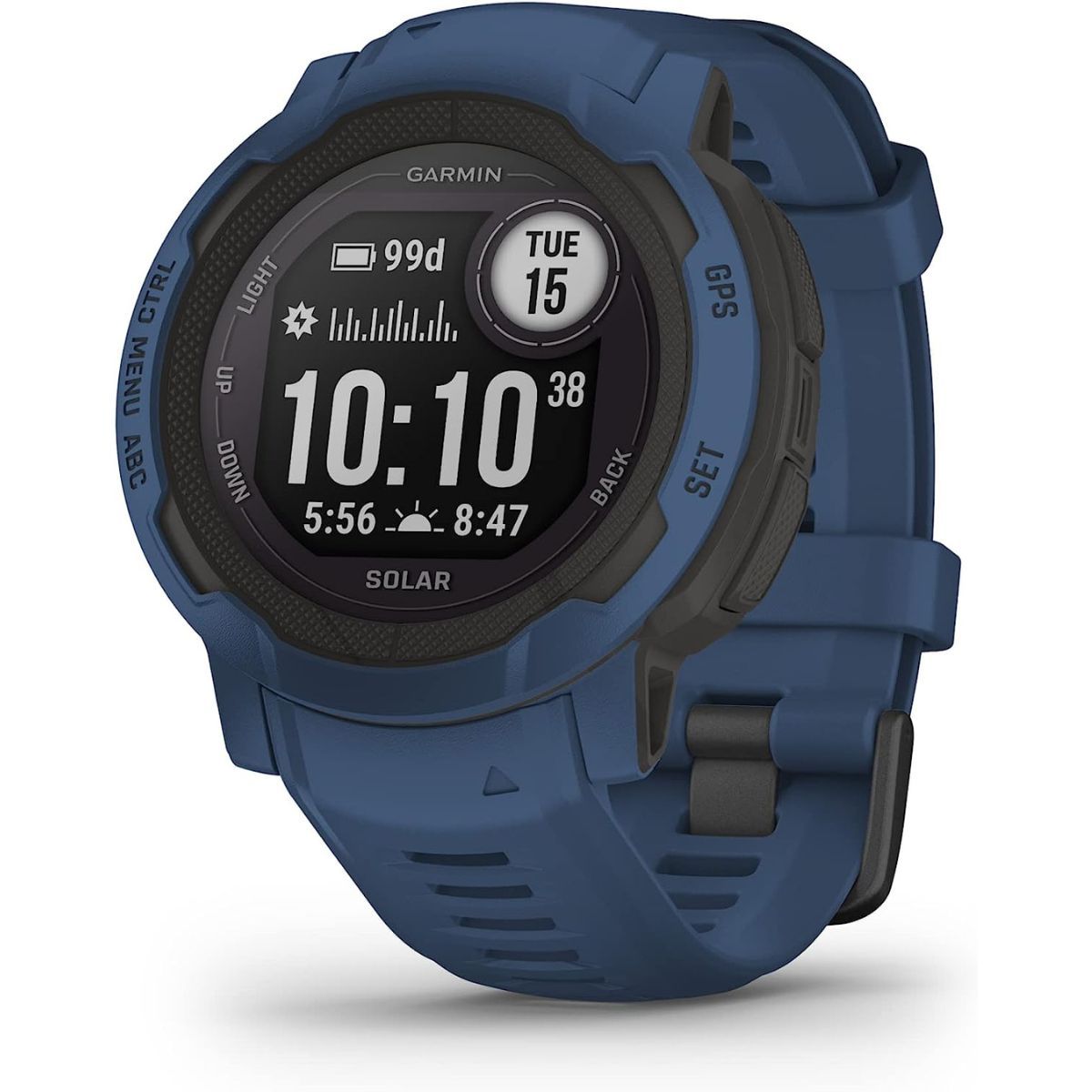 Garmin Instinct 2S Solar

Best battery life
Enjoy a battery that lasts for days and days
The Garmin Instinct 2S Solar has the best battery life with easy solar charging for a battery that seemingly never ends. Enjoy bonus fitness tracking features with tracking of your vitals throughout the day and special sports apps ready to take your workout to the next level.
Pros
Phenomenal battery life
Reliable GPS
Superior durability
Cons
Plastic construction
Smaller display
No music storage
If you want an option with long battery life, the Garmin Instinct 2S Solar is your pick. Outdoor enthusiasts are sure to love the extended use this watch has to offer. The battery life lasts up to 48 hours, but since this is a smartwatch meant for an on-the-go lifestyle, there is easy solar charging, so you never have to run out of battery anywhere. When you are in smartwatch mode, you can get up to a whopping 51 days of battery when you spend three hours daily in direct sunlight for solar charging.
It is designed for a life outdoors, whether you are training, hiking, swimming, or even camping. The watch will track important vitals and statistics, like heart rate, sleep, respiration, and Pulse Ox. Sports apps are readily available to help you with biking, running, and strength training with an available VO2 Max bonus. This is also a watch made for swimming with the ability to handle greater depths than your average watch; you can dive up to 100 meters without trouble. It also includes scratch-resistant Corning Gorilla glass to handle life's bumps and scrapes.
GPS isn't just included with this watch, but access to other global navigation satellite systems like GLONASS and Galileo are included for greater location accuracy. In addition to GPS is Bluetooth connectivity so you can receive smart notifications when you use the Connect IQ app.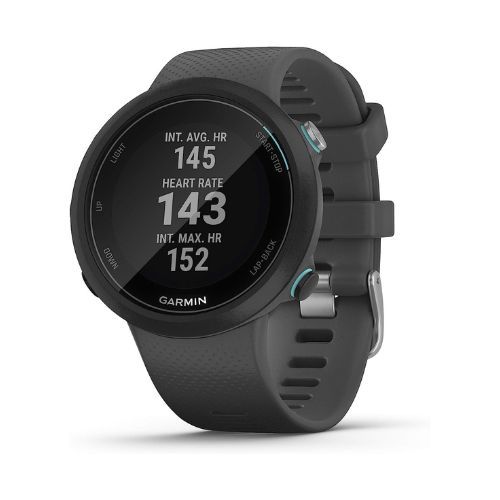 Garmin Swim 2

Best waterproof
Made for those underwater adventures
$245 $250 Save
$5
The Garmin Swim 2 is pool-ready with distance and stroke tracking so you can watch your workouts grow while you complete key drills and tasks as assigned by your watch. In the meantime, keep an eye on your health with heart rate tracking with built-in GPS to keep you safe in open water.
Pros
Excellent waterproofing
GPS
Built-in fitness features
Cons
Occasional data inaccuracies
Smaller display
Lacks more advanced features
The Garmin Swim 2 is easily one of the best fitness trackers for swimming. Versatility is a priority here, allowing for both open-water and pool swim modes. When swimming in a pool, it will record things like distance, stroke count, and efficiency. The Critical Swim Speed feature tracks your heart rate to let you know when to slow down or pick up the pace.
It can also help you complete important drills to enhance your swimming ability, tracking time and distance for things like kicking, sculling, and one-arm swimming. All the while, it tracks your heart rate underwater to prevent overexertion. And when you are finished swimming, your watch stops tracking automatically so not to confuse your data. You can use the Garmin Connect app to check your stats both during and after your swim.
Beyond that, there is built-in GPS, which is especially helpful when in open water. An always-on color display adds extra convenience in a petite size measuring about an inch. There is up to seven days of battery life, which is not the best for Garmin, but it still lasts for far more than a swim.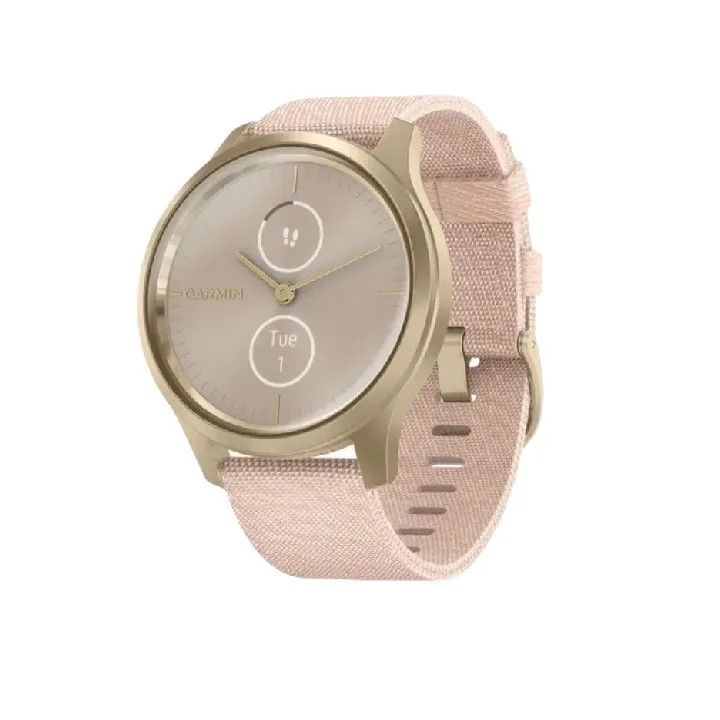 Source: Garmin
Garmin vivomove Style

Best professional
When you like sophistication
$300 $350 Save
$50
The Garmin Vivomove Style brings the best of both worlds, working as an analog watch with dual AMOLED color touchscreen displays. Advanced health and wellness features are included, like Garmin's Pulse Ox technology. Corning Gorilla glass is an added touch for increased durability during life's adventures.
Pros
Sleek design
Fitness tracking
Color screen
Cons
No built-in GPS
Dim display
Not as touch-sensitive
When you want the best stylish smartwatch for women, the Garmin Vivomove Style is your best bet. It is a hybrid smartwatch that offers the look of a traditional analog watch with a 1.2-inch display and working watch hands. However, when it springs to action, the timeless style converts to dual AMOLED color touchscreen displays for an unexpected and wholly appreciated surprise. Domed Corning Gorilla glass completes the thoughtful construction, offering a smartwatch that can stand up to life activities.
And this watch is ready for activity. Users will benefit from coveted Garmin health and wellness features, like energy and respiration monitoring with Pulse Ox, with the watch offering insight into stress levels and heart rate. It also helps with menstrual cycle tracking, while the built-in sleep monitor helps you learn more about your body's sleep habits while you snooze. You can also tap into the provided activity profiles for activities like yoga, strength, and cardio.
With Bluetooth integration, you can receive smart notifications for things like incoming calls, text messages, and calendar alerts. Garmin Pay is integrated for contactless payments while you shop, allowing you to ditch the wallet and use your watch to make purchases instead. It also comes GPS-ready in case of emergency. On a daily basis, use the GPS feature to track outdoor walking and running. Just beware – you will need to charge this beauty about every five days.
Garmin's best smartwatches for women are packed with features in a slimmer profile

Not all smartwatches have to be big and bulky. With these best smartwatches for women, users can benefit from leading health and wellness features with GPS and Bluetooth, all wrapped into a slimmer package from leading smartwatch manufacturer Garmin.
Some of the best smartwatches are by Garmin. They are packed with features that simplify and improve life. The Garmin Lily is the best entry overall, offering expanded health tools and simple fitness tracking with integrated pregnancy tracking. If you want to splurge, the Garmin Epix Pro (Gen 2) builds upon the original version, offering premium features like an upgraded AMOLED always-on display with a built in-flashlight and a generous battery life. Not all of the standout watches are pricey, though. The Garmin Forerunner 55 provides the best value with a price tag that is half the Epix Pro while you benefit from integrated GPS and Bluetooth with fitness tools and easy health tracking.
It all depends on what you are looking for in a smartwatch, but it's hard to ignore extra features like menstrual cycle tracking. Regardless of which model you choose, there is no doubt that Garmin has you covered.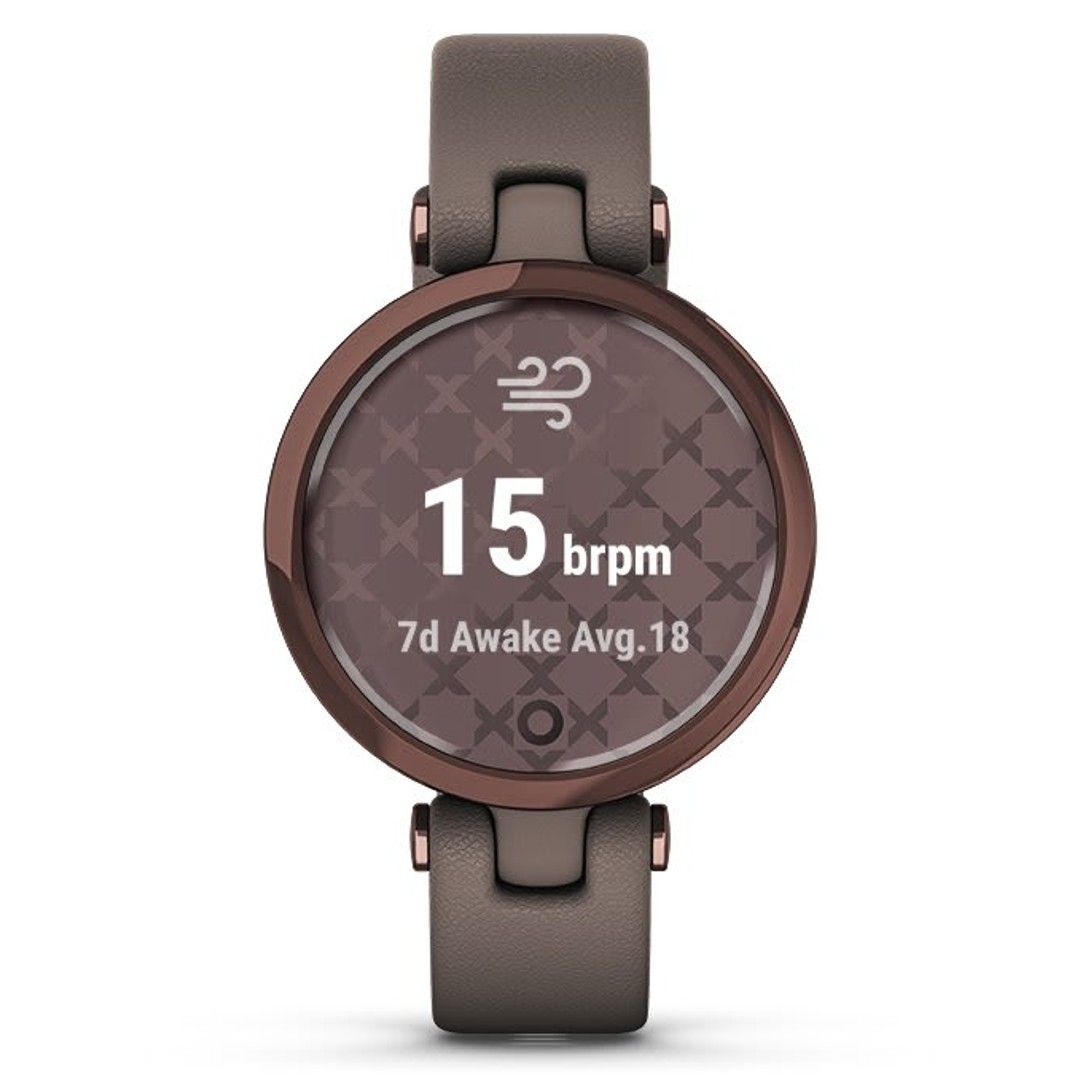 Garmin Lily

Best overall
Slim and sleek
With a slimline and a small form, plus all of the features, the Garmin Lily is a great smart watch for women without the added bulk.