I love using potato chips in that explanation because they really are a perfect example. Normally, they're absolutely considered off-limits on the paleo diet, for obvious reasons. But when you swap out the white potatoes for sweet potatoes and make your own potato chips from scratch? The resulting chips are so good, you really won't be missing out.
If you love sweet potato chips, you'll also love these Sweet Potato Wedges with Avocado Aioli and Sweet Potato Nuggets.
Today I'm going to be sharing a recipe that will teach you exactly how to make super easy homemade sweet potato chips. They couldn't be easier to make as well, requiring only four simple ingredients and about 30 minutes of your time.
A Great Savory Paleo Snack Idea
You're going to especially love this recipe if all of your favorite snacks that you enjoy munching on are savory and salty. A winning combination of dried rosemary and pure sea salt ensures that these sweet potato chips are packing a ton of flavor, making them a perfect choice to serve for all manner of occasions, from watching the game on a lazy Sunday afternoon to hosting a neighborhood cookout.
The key thing that makes this recipe paleo friendly is using sweet potatoes as your main ingredient as opposed to white potatoes. And take it from me (I've been hooked on mashed potatoes for as long as I can remember), sweet potatoes do indeed make a spectacular substitute.
Are Sweet Potatoes Paleo?
I highly recommend checking out our 'Are Sweet Potatoes Paleo?' article. It goes into a detailed explanation as to why sweet potatoes are considered acceptable to eat on the paleo diet while white potatoes are not.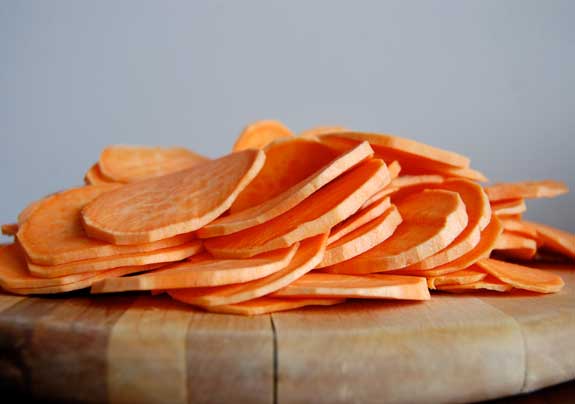 Not only do the sweet potatoes allow you to enjoy snacking on potato chips without having to feel guilty about it, but they also provide you with quite a few solid health benefits as well.
Sweet potatoes are an excellent source of several essential vitamins and minerals, and they're also jam packed full of antioxidants that help to keep disease at bay. (1)
However, it's important to note that they are indeed still a starchy carbohydrate source, so it's important to be mindful of your daily macros, especially for those of you who are trying to keep their carb intake to a minimum.
With that being said though, the type of starch that sweet potatoes contain actually raises blood sugar levels quite slowly, especially when compared to other types of carbs like fruits. This makes sweet potatoes a particularly good carb option for individuals who suffer from type 2 diabetes. (2)
When making this recipe, you're going to want to peel the sweet potatoes and then slice them into thin strips using either a mandolin or a sharp knife. Afterwards, add them into a large bowl along with two tablespoons of melted coconut oil.
Anyone who knows me knows that coconut oil is one of my 'go to' ingredients for just about everything. I use it in recipes, I use it to moisturize my hair, and I even use it as a sort of mouthwash with oil pulling. The amount of different applications that coconut oil has is truly astounding.
It's a particularly good ingredient to use for paleo dieters because it's a great source of quality saturated fats. No, you didn't read that sentence wrong; there is indeed such a thing as good saturated fats!
The type of saturated fats found in coconuts are known as medium chain triglycerides (MCT) fatty acids. MCT fats are incredibly beneficial for anyone following any type of low carb diet plan because they can help to boost your ability to burn fat while providing your body and brain with a quick source of fuel. On top of that, there's even evidence that coconut oil may help to improve levels of the 'good' kind of HDL cholesterol in your bloodstream. (3)
Along with adding a solid amount of MCT fats to the recipe, the coconut oil serves another important purpose by helping to combine the remaining ingredients. In the same bowl that you added the sweet potatoes and melted coconut oil, you're also going to have to add two teaspoons of dried rosemary and a single teaspoon of pure sea salt.
Flavor with Dried Rosemary and Sea Salt
It would be one thing to just throw a few slices of sweet potatoes into the oven and bake them into a healthy snack, but the real secret of this recipe is a combination of dried rosemary and sea salt. It's that pairing that ends up turning this into a recipe that makes one amazing healthy snack.
Not only does the rosemary add quite a lot of potent flavor to your chips, but it should come as no surprise that it also offers up quite a few great health benefits for this recipe as well. Rosemary is known to possess both anti-inflammatory and antioxidant compounds, and there's even evidence that it may help to protect against the development of neurological diseases like Alzheimer's. (4)
Adding in the pure sea salt helps to offset some of the bitterness of the rosemary while also giving your chips that classic salty taste that everyone loves to snack on.
Tip for Crispy Sweet Potato Chips Every Time
Don't layer your chips on top of each other on the baking sheet. The key to crispy chips every time is to only place a single layer per baking sheet. Also, keep a close eye on them after the 15 minute mark. Depending on the moisture content of your potatoes, your chips could be done a minute or two less than the prescribed cooking time.
Other Paleo Chips to Try (Sweet and Savory Combos!)
Finally, if you're craving a way to snack on chips in a paleo friendly way but you aren't quite sold on mixing sweet potato and rosemary, we also have a few other tasty (and oh so healthy) homemade chip recipes that are 100% paleo friendly as well. Have a peek at the following list to see if anything excites you:
Before we wrap things up with this recipe, I thought it might be a good idea to spend a bit of time going over some of the most common questions that we get in regards to making this sweet potato chips recipe. So without further ado…
Can I Use a Different Vegetable to Make This Recipe?
While I find that the combination of sweet potatoes, rosemary, and pure sea salt delivers fantastic results, I also definitely realize by now that not everyone likes the same things when it comes to making homemade paleo recipes.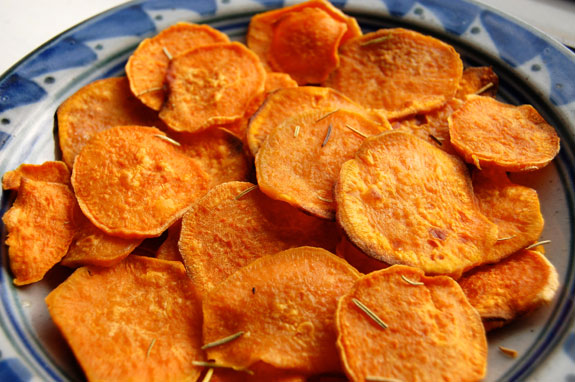 Not to worry though. Just taking one quick peek at the list above of other chip recipes that we've featured on the site will show you that it's completely possible to use a different vegetable option for your homemade chips if you'd like.
Instead of using sweet potatoes, you can definitely feel free to use one of the following options:
Kale
Zucchini
Carrots
Beets
Plantains
Parsnip
Bananas
My Sweet Potato Chips Didn't Turn Out Very Crispy?
There are a couple of reasons why your chips might not turn out very crispy when you're following this recipe.
Probably the most common one is simply that you've sliced your sweet potato into slices that are too thick. Try slicing them just a bit thinner for the next time and that usually solves the problem.
I also find that sometimes it works better to just brush the sweet potato slices with coconut oil instead of tossing everything together in a bowl all at once. I've tried just brushing them a couple of times now and it always ends up with slightly crispier chips. It could be worth a shot if you're dealing with this issue.